Baklava Inspired French Toast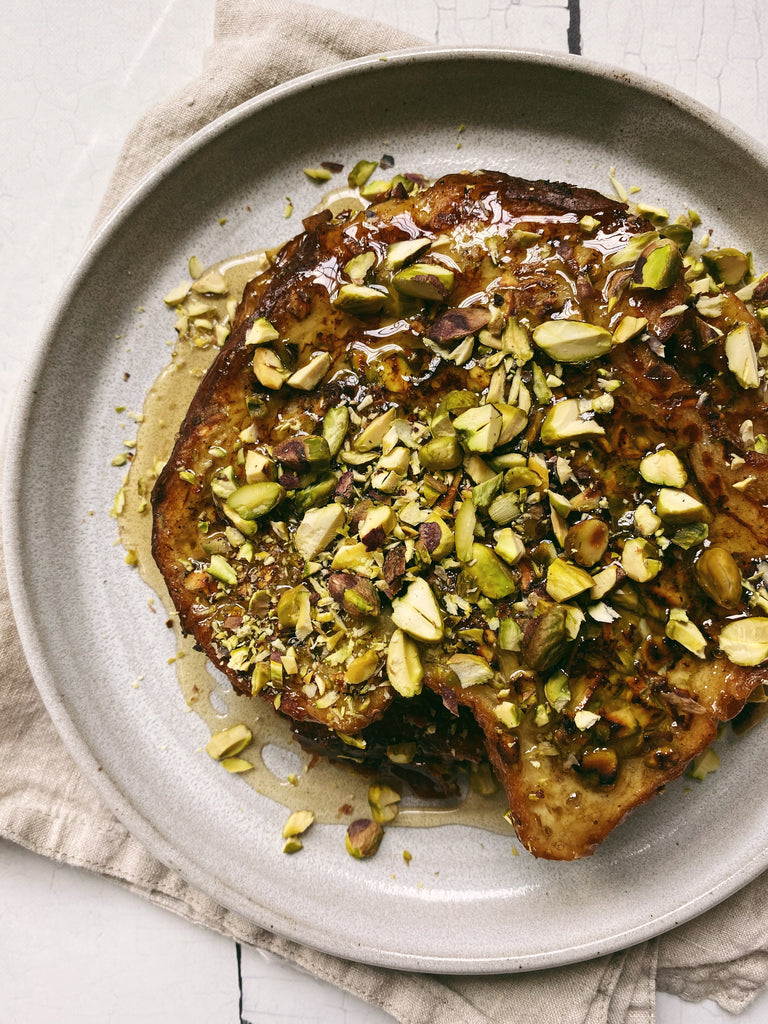 Flaky layers of pastry, nuts, and honey can mean only one thing — baklava! Inspired by this beautiful Middle Eastern dessert, we've created a French toast recipe with our traditional brioche and the same flavors we love. The brioche is dipped into a custardy egg mixture and then coated in chopped pistachios, fried in butter and topped with a generous drizzle of honey — it's truly decadent and delicious!
2 eggs

3/4 cup full-fat milk
1 tsp vanilla extract
2 tbsp sugar
1/2 tsp ground cinnamon
2 cardamom pods, crushed (to infuse the custard)
pinch of salt
2 thick slices For the Love of Bread Bakery brioche
1/2 cup chopped pistachios + more to finish
1 tbsp butter
honey, to finish

In a shallow dish, beat the eggs with the milk, vanilla, sugar, cinnamon, cardamom, and salt. Soak the brioche slice in the egg mixture for 60 seconds, flip the slice and soak the other side for another 60 seconds. Next immediately coat both sides of the brioche slice with the chopped pistachios. Repeat the above two steps for the remaining brioche slice. Heat the butter in a medium-size skillet over medium heat. Fry the brioche slices until golden brown on both sides (about 3-4 minutes per side). Transfer to plate with any pistachios that may have slipped off. Finish the French toast with a generous drizzle of honey and chopped pistachios. Enjoy!