A Better Chocolate Spread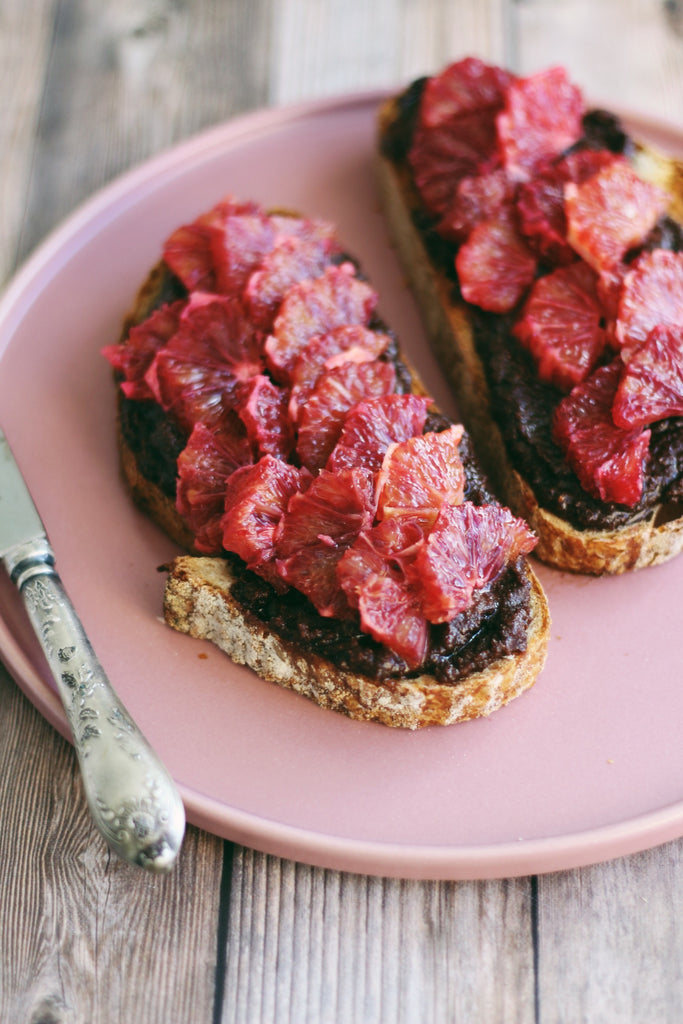 What's better than chocolate spread? A better chocolate spread with zero refined sugar and palm oil.

Made with toasted hazelnuts, dark chocolate, dates and other natural ingredients, spread it on our organic country sourdough bread with beautiful blood oranges. It's this week's #100Ways to love bread again, and we're not waiting for vday to enjoy this.
yield: about 1 1/2 cups of spread / 425 grams
cooking time: 15 minutes

For the spread:
250 grams hazelnuts, without skins & toasted

100 grams dark chocolate, melted
4 medjool dates, pitted
3 tbsp coconut oil
1/2 tbsp cocoa powder
1 tbsp pure vanilla extract
1/4 tsp sea salt
Place the hazelnuts in a heavy duty food processor or blender and start to process them. The nut butter process goes from powder to clumpy paste to smooth so be patient and keep processing. Scrape down the sides every 2 minutes and keep blending until smooth, about 5-8 minutes. Once the hazelnuts have come together into a nut butter, add the melted dark chocolate, dates, coconut oil, cocoa powder, vanilla extract, and sea salt. Process the mixture for another 1-2 minutes until smooth and almost glistening. Transfer the spread to a jar.

To serve
For the Love of Bread organic sourdough country loaf, toasted

blood oranges, peeled and cut into segments
Spread the chocolate spread on the toasted sourdough. Adorn with blood orange segments. Enjoy with a loved one 

Tips:
Don't let the grainy texture fool you - this is pure hazelnut goodness. The reason popular chocolate spreads are silky smooth is because of the use of refined sugars and palm oil.

It's a major time saver if you can find hazelnuts that are already peeled and toasted. Otherwise toast them on a sheet pan in the oven at 177°C for 15 minutes. Then using a tea towel, rub the skins off the nuts vigorously.
Use a high quality dark chocolate for intense chocolate flavor. We've used an 85% from Valrhona

 but anything above 70% works great.

We used medjool dates in this recipe, as they're plump and sweet, but substitute with whatever dates you have. Adjust amount for desired sweetness.