A Toast for Autumn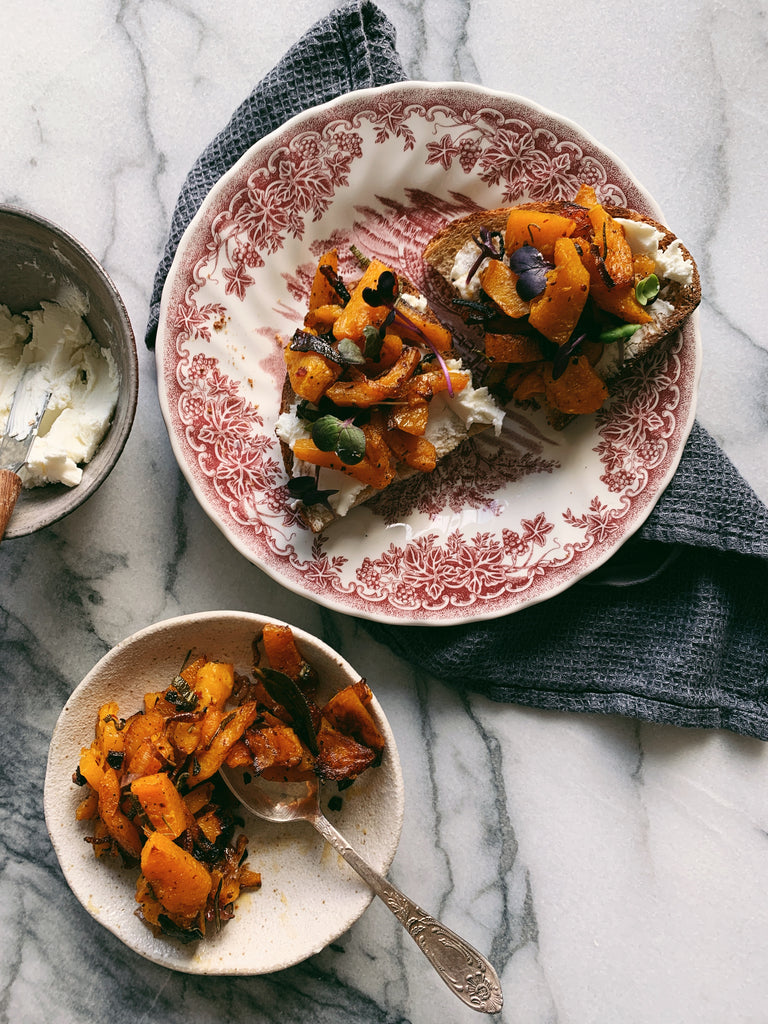 We can't help but feel a little envy as the leaves start turning crisp and crimson in other parts of the world. While it still feels like summer here in Dubai, we'll be relishing winter beach days and cooler temperatures soon.
Taking in a little autumn inspiration we've created an easy recipe with the quintessential fall fruit: butternut squash. Yes, we said fruit. Fun fact: squash is actually a fruit! We roast the squash along with fragrant sage, red onion and other aromatics. The onion takes on a personality of its own in the mix, charred but sweet and caramelized.

A slice of our toasted sourdough spread with soft tangy goat cheese, we then spoon the warming squash mixture on top. Hello October! #100Ways

yield: serves 2 time, cooking time: 30 minutes
350 grams butternut squash, peeled and cut into chunks

1/2 of a red onion, sliced
6 fresh sage leaves, roughly chopped
1 sprig fresh rosemary, roughly chopped
1/2 tsp aleppo pepper or chili flakes
1/4 tsp sumac
1/2 tsp salt
4 tbsp extra virgin olive oil
Preheat the oven to 425F/218C. Place the butternut squash chunks, red onion slices, sage, rosemary, aleppo pepper (or chili flakes), sumac and salt on a large baking sheet. Drizzle the olive oil over the squash mixture evenly, use your hands to ensure it's fully coated. Roast in the oven for 20-25 minutes tossing at the 15 minute mark, until the squash is fork tender and the onions are golden brown

To assemble and serve
2 slices of For the Love of Bread country sourdough batard, toasted

soft creamy goat cheese, about 3 tbsp per slice
butternut squash mixture
Spread the goat cheese generously over the sourdough toast. Spoon the roasted butternut squash on top and enjoy!