A Versatile Spread for Your Next Sandwich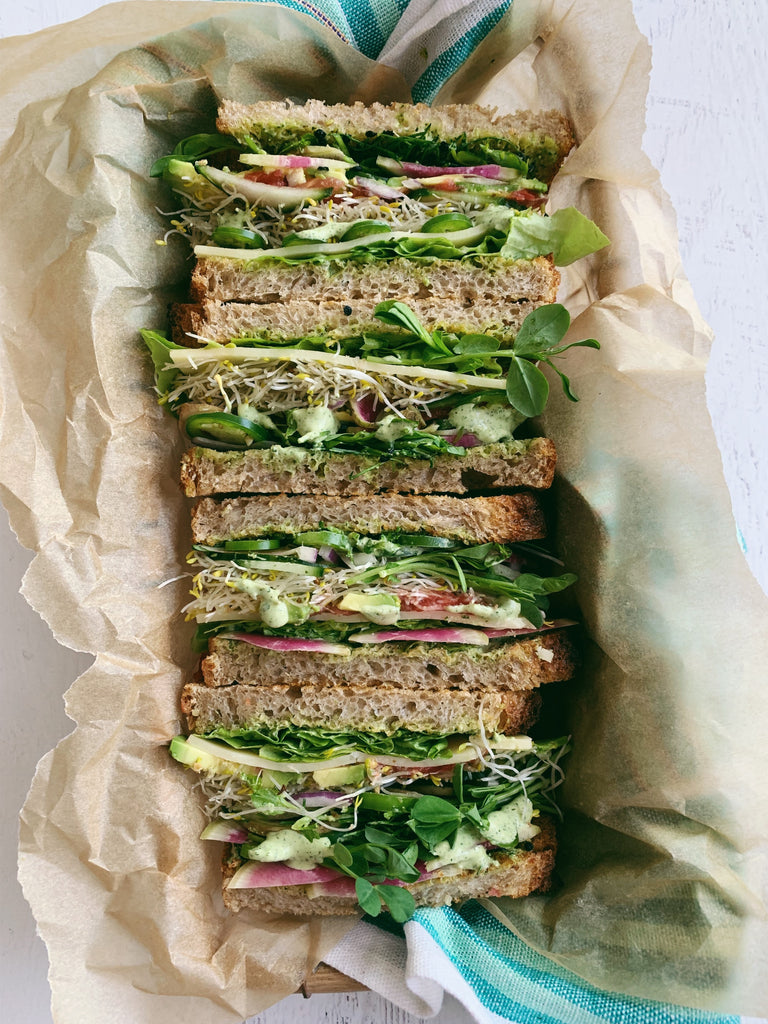 What do you do the day after Bakery Day? Make a delicious sourdough sandwich! Breakfast, lunch or dinner, any time is a good time for a sandwich, and one of our favorite things to eat.

Take your sandwich from good to great in minutes with our versatile spread bursting with *four* kinds of fresh herbs. We used it with our country sourdough sandwich bread to make a mega veggie stuffed sandwich. We've listed what we thought made for some pretty tasty fillings, but feel free to use whatever veggies you may have lurking around in the fridge. Sorry Taco Tuesday, but a good sandwich is hard to top!
yield: about 1 cup / 425 grams
cooking time: 15 minutes
5 tbsp sour cream

4 tbsp mayonnaise
1 tbsp Dijon mustard
1 clove of garlic, peeled
juice of 1 lemon
2 dashes of hot sauce
handful of fresh parsley
handful of fresh chives
handful of fresh dill
handful of fresh tarragon
1/8 tsp garlic powder
1/8 tsp onion powder
1/2 tsp salt
1/2 tsp cracked black pepper
Place all of the ingredients into a food processor or blender. Process until smooth and creamy. Transfer to a jar.

To serve
For the Love of Bread country sourdough sandwich bread, toasted.

Sliced cheddar cheese (or any cheese of your preference).
Veggie options: butter lettuce, alfalfa sprouts, sliced avocado, sliced tomato, sliced cucumber, sliced red onion, sliced radishes, sliced jalapeños, sliced dill pickles, micro-greens.
Spread the dressing evenly over both slices of toast. Layer generously with the veggies and cheese on one toast. Place the other toast on top and press into a sandwich. Enjoy!

Tips:
Be generous with the herbs - when we say handful, we mean handful!

This spread would also be great in a sandwich with grilled chicken, steak or deli meats.
Store in a jar in the fridge for up to 4 days.