Blistered cherry tomato on toast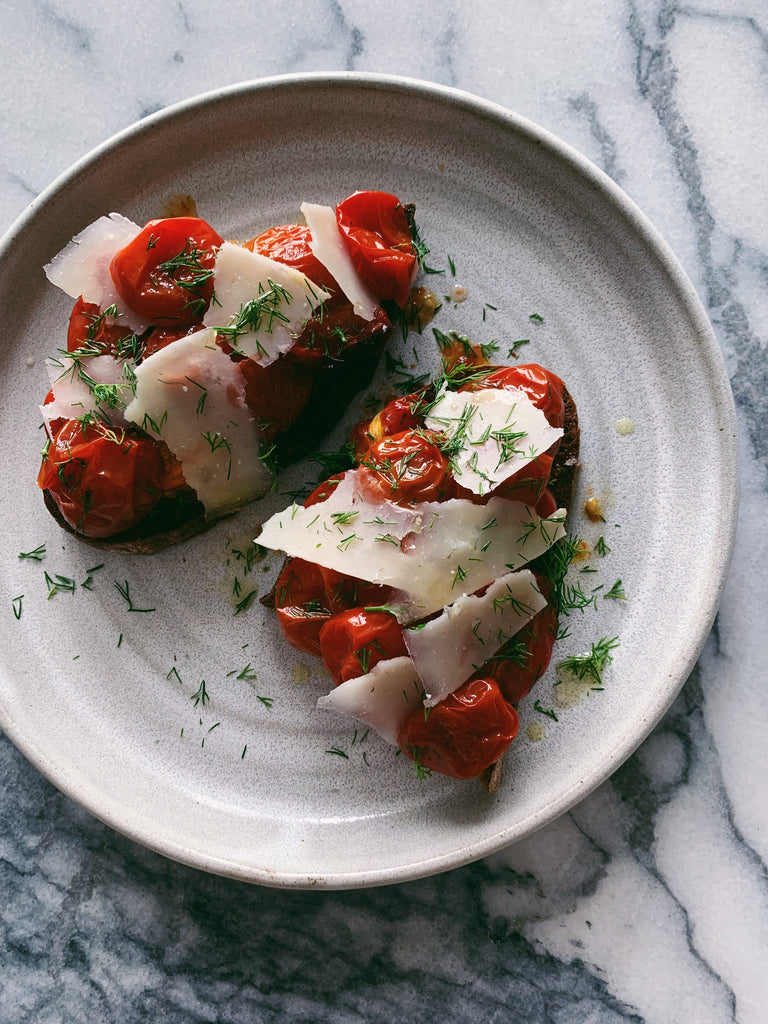 Blistered cherry tomatoes + sourdough toast + pecorino cheese + fresh herbs = the good life.
Welcome to #100Ways, our new weekly series of quick and easy recipes. Using real ingredients and 100% organic, sourdough bread, we'll give you a hundred ways you can re-introduce bread into your life safely and with minimal fuss and prep time.
These blistered cherry tomato sourdough toasts are nutritious and *bursting* with flavor. We always have cherry tomatoes on hand, but if you don't, you better make a move.
Serves: 2, Cooking time: 30 minutes

For blistered cherry tomatoes:
400 grams cherry tomatoes, halved

4 tbsp extra virgin olive oil
1 tsp flaky sea salt
4 sprigs of fresh thyme

Preheat the oven to 230°C. Line a sheet pan with parchment paper and coat with 1 tbsp of extra virgin olive oil. Place the cherry tomatoes on the sheet pan and drizzle the remaining 3 tbsp of extra virgin olive oil over the tomatoes until evenly coated. Season with the sea salt and place the thyme sprigs on top. Roast in the oven for 18 minutes. After 18 minutes, switch your oven to the broil setting and let the tomatoes blister for an additional 2 minutes. Watch carefully so that they don't burn. Remove from the oven, discard the thyme and set aside.

For sourdough toast:
4 slices of sourdough bread, halved

2 tbsp extra virgin olive oil
1 garlic clove, peeled
Set the oven to the broil setting. Arrange the toasts on a sheet pan and brush each one generously with the extra virgin olive oil until fully coated. Place the sheet pan in the oven and let the bread toast for about 2 minutes until golden brown. Watch carefully so that they don't burn. Once toasted remove from the oven and immediately rub the garlic clove on the warm toasts.

To serve 
handful of fresh dill, roughly chopped

pecorino shavings
Spoon the blistered cherry tomatoes and its' juices over the sourdough toasts. Garnish generously with dill and pecorino shavings.

Variation:
You can substitute pecorino with parmigiano reggiano or omit the cheese completely for a vegan 

option.