Broiled Banana and Peanut Butter Toast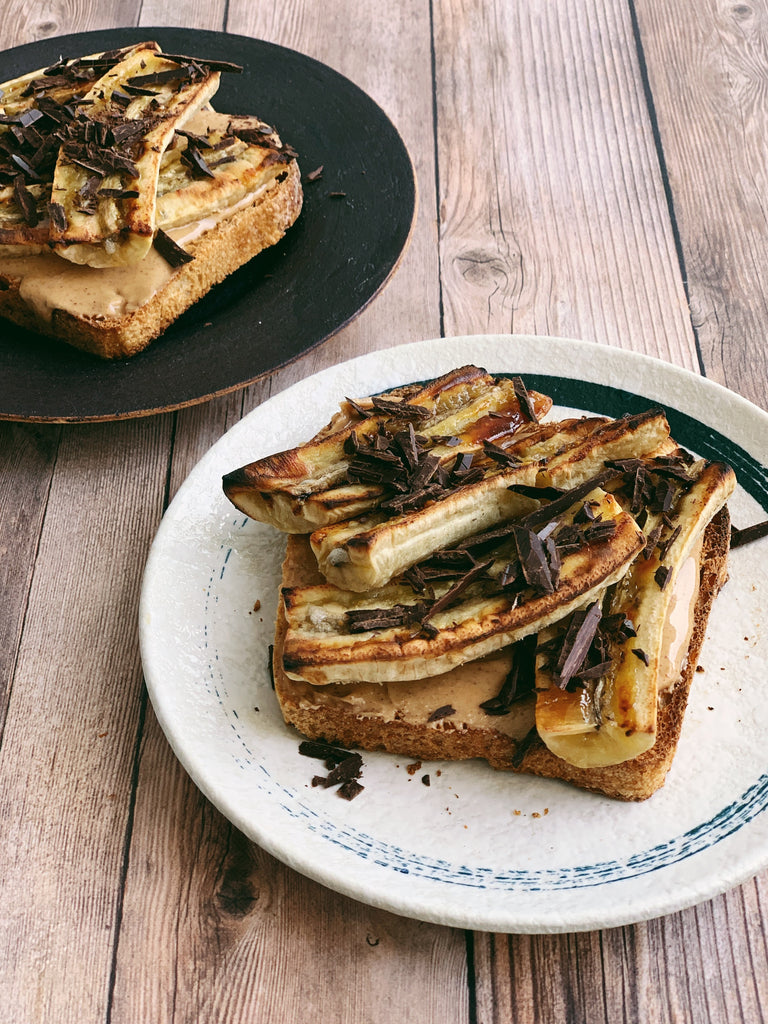 There's only one thing better than peanut butter & chocolate, and that's the heavenly combination of warm banana, peanut butter & chocolate.

We are returning to our oven broiling tip (see our pear yogurt toast recipe from a couple of weeks ago for reference), but this time with bananas! We drizzle sliced bananas with honey and pop them under the broiler for a few minutes. The result: caramelized, tender and delicious pieces of warm fruit. Paired with creamy peanut butter and topped with dark chocolate shavings, this makes for a luxurious breakfast, dessert or mid-day treat. Zero added sugar, and one super tasty toast!
cooking time: 10 minutes inactive, 5 minutes active

For the Bananas
• 2 bananas, peeled & sliced vertically
• 1 tbsp honey

Set your oven to the broiler setting and place a rack in the middle of the oven. Line a sheet pan with parchment paper or foil and place the bananas on the pan (flat-side facing upwards). Drizzle evenly with honey. Place the sheet pan in the oven under the broiler and let caramelize for 8-10 minutes. Keep a vigilant eye so that the bananas don't burn. Let broil until golden brown and then remove from the oven

To assemble and serve
2 slices of For the Love of Bread organic whole wheat sourdough sandwich bread, toasted

peanut butter or your favorite nut butter
the broiled bananas
10 grams of 70% dark chocolate shavings
Spread the peanut butter generously on each toast. Place the broiled bananas on top. Finish with dark chocolate shavings on top and enjoy!

Recipe Note
Try not to use overripe bananas as sometimes they can become mushy and fall apart.