Broiled Pears & Greek Yoghurt Toast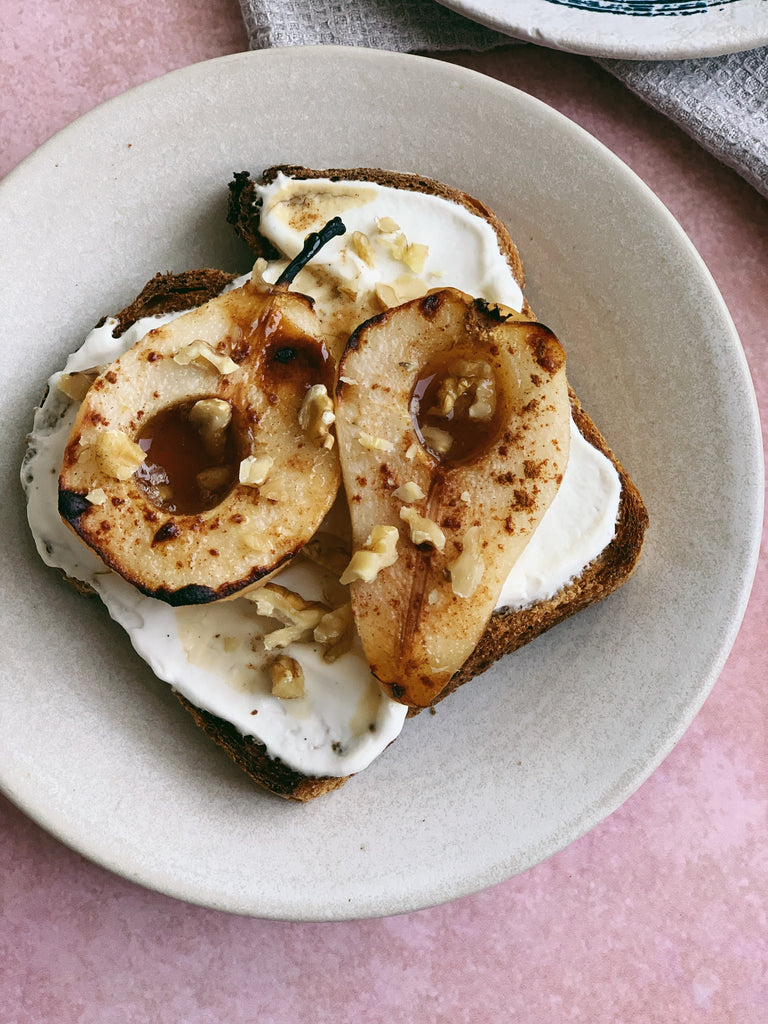 Kicking it up a notch with a great farmer's market find: juicy pears!

Instead of standing over a stove making a compote or caramelizing fruit in a pan (which we also love), use our PRO-TIP to make life easy and use broiler setting in the oven.

The pears caramelize wonderfully under the broiler in a matter of minutes, and with maple syrup, cinnamon & cardamom the taste and aroma is SO GOOD. We've paired these gorgeous pairs with thick creamy Greek yogurt infused with vanilla bean, so no additional sweeteners necessary.

yield: 2 toasts, cooking time: 10 minutes

For the broiled pears
2 pears ~ peeled, halved & cored

1/4 tsp ground cinnamon
1/8 tsp ground cardamom
pinch of sea salt
1 tbsp pure maple syrup
Set your oven to the broiler setting and place a rack in the middle of the oven. Line a sheet pan with parchment paper or foil and place the halved pears (cored side up) on the pan. Sprinkle the cinnamon, cardamom and sea salt on top. Drizzle the maple syrup evenly over the pears. Place the sheet pan in the oven under the broiler and let caramelize for 5-7 minutes. Keep a vigilant eye so that the pears don't burn. Let broil until golden brown and then remove from the oven and set aside.

For the Greek yogurt
100 grams thick Greek yogurt, unsweetened

1/4 tsp vanilla bean paste
In a bowl mix the Greek yogurt with the vanilla bean paste till combined

To assemble and serve
assembly time: less than 5 minutes
2 slices of For the Love of Bread whole wheat country sourdough sandwich bread, toasted

15 grams walnuts, chopped
Generously spread the vanilla Greek yogurt on the toasts. Place two pear halves on top of each toast (cored side up). Sprinkle with walnuts.

Recipe Notes
Keep a vigilant eye on the broiling as the pears can burn quickly!

Feel free to try this method with other fruits like apples, nectarines & peaches.