Cheesy kale and artichoke dip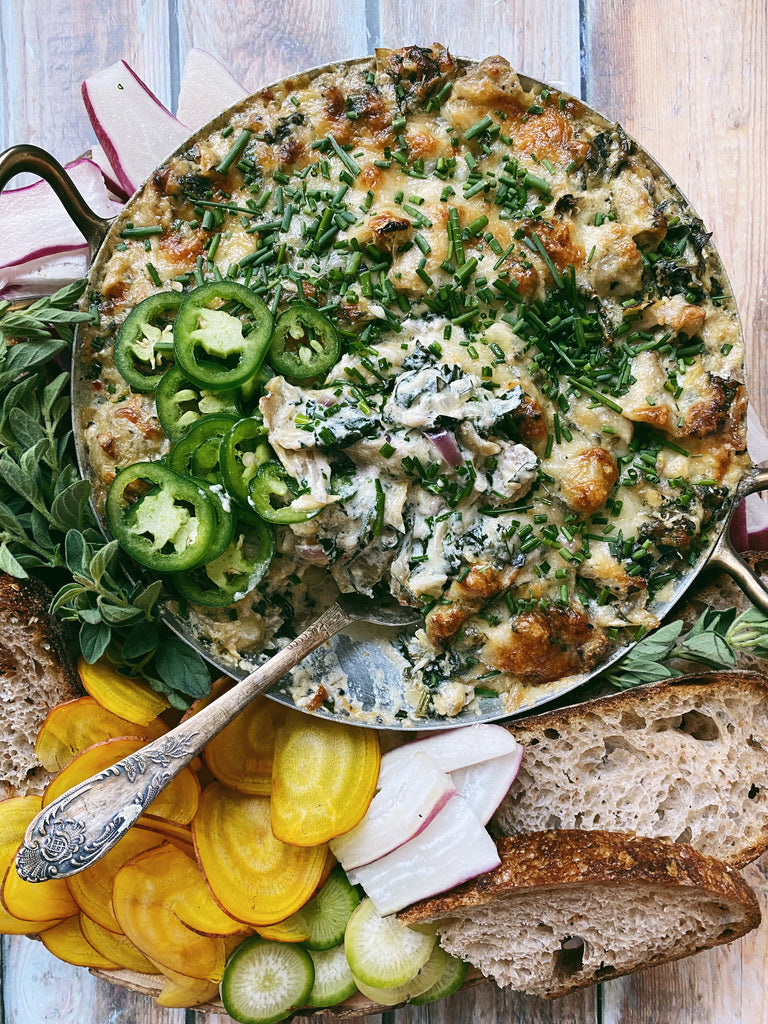 Warm spinach and artichoke dip is an ode to our teenage years, one of those trendy 90s recipes that has somehow stood the test of time. Put a big bowl of this dip out at any gathering and we can guarantee it will be the first appetizer to be polished off.

For our version we switch out the spinach for kale and used a blend of monterey jack, cheddar, and parm with fresh parsley, served alongside crunchy vegetables and our sourdough bread. It's the ultimate crowd pleaser. Although, we must reinforce please no crowds during COVID-19!


2 tbsp extra virgin olive oil

2 cloves of garlic, chopped
2 shallots, chopped
120 grams kale, stems removed and chopped finely
1/2 tsp salt
1/2 tsp chili flakes
410 grams jarred or canned artichoke hearts, drained and coarsely chopped
227 grams sour cream (or creme fraiche)
60 grams + a small handful monterey jack cheese, grated
60 grams + a small handful sharp cheddar cheese, grated
100 grams + a small handful parmigiano reggiano, grated
handful fresh parsley, chopped
dash of hot sauce
1/2 tsp salt
1/2 tsp garlic powder
1/4 tsp onion powder
fresh chives, finely chopped
1 jalapeno, thinly sliced
Preheat the oven to 204C/400F. Add the olive oil to a large skillet and sauté the garlic and onion until translucent and soft. Add the kale, salt, and chili flakes and cook down for 3-4 minutes. Transfer the kale, garlic, and onion to a large bowl with the artichokes, sour cream, monterey jack, cheddar, parmigiano reggiano, parsley, hot sauce, salt, garlic powder, and onion powder. Mix well till combined.

Transfer the dip to an oven-safe dish and cover the top with the remaining grated cheeses. Bake for 20-25 minutes until golden brown and bubbly. Garnish with sliced jalapeños and chopped chives.

To serve
For the Love of Bread organic country sourdough batard, sliced

fresh vegetables of your choice (radish, carrots, celery, gem lettuce, beets)
Serve the dip warm from the oven with sourdough and veggies. Enjoy!