Chili Honey Butter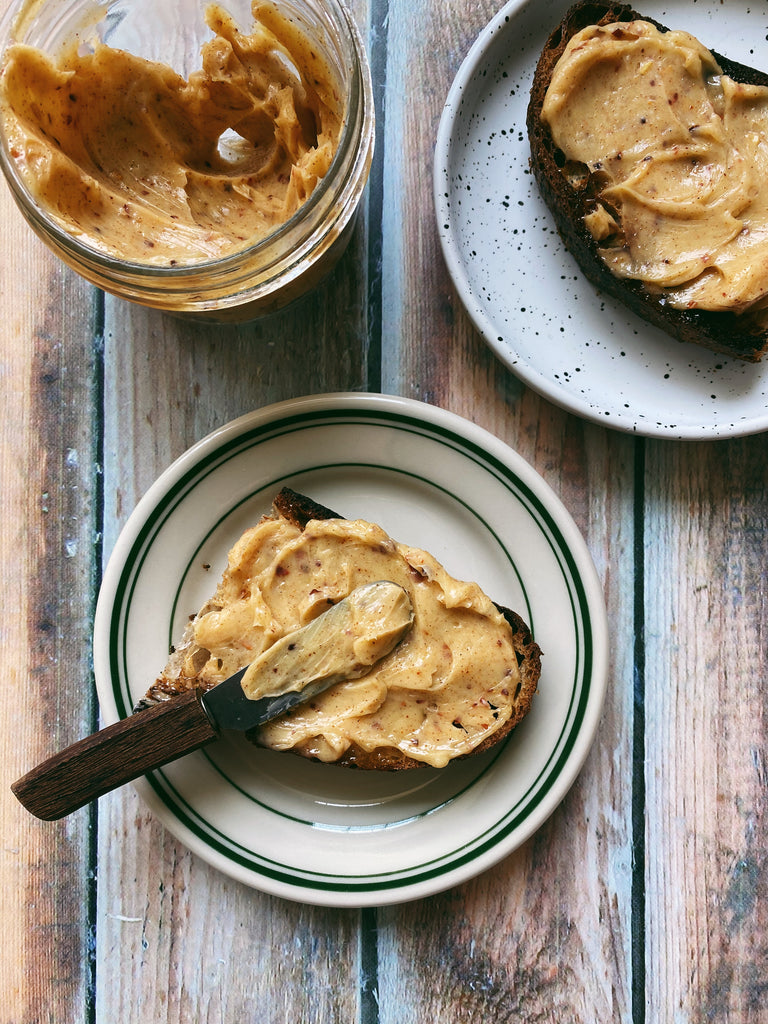 Everything's better with butter, especially when it's chili honey butter. This simple recipe will take your butter toast game up a notch with a sweet and spicy kick. We use a combination of chili flakes, cayenne pepper, and aleppo chili with sweet honey to balance it all out. This butter is addictive and don't be surprised if you find yourself eating it out of the jar, it's that good! We use a stand mixer to beat the butter making it extra fluffy, but feel free to do this by hand. This rich butter is extremely versatile and we highly recommend frying some eggs in it, adding it on to your pasta, or as a finisher for roasted vegetables or sautéed fish. It will keep in the fridge for a few weeks.
1 stick (113 grams) unsalted butter, at room temperature

1/2 tsp cayenne pepper
1/4 tsp chili flakes
1/4 tsp aleppo chili
1/4 tsp salt
1 1/2 tbsp honey
1 slice For the Love of Bread organic country sourdough batard, toasted flaky salt to finish
Using a mixer or by hand, beat the butter with the cayenne pepper, chili flakes, aleppo pepper, salt, and honey until light and fluffy. Transfer to a jar.
Spread the chili honey butter generously over the sourdough toast. Finish with a pinch of flaky salt. Enjoy!