Chocolate Sourdough Bread Pudding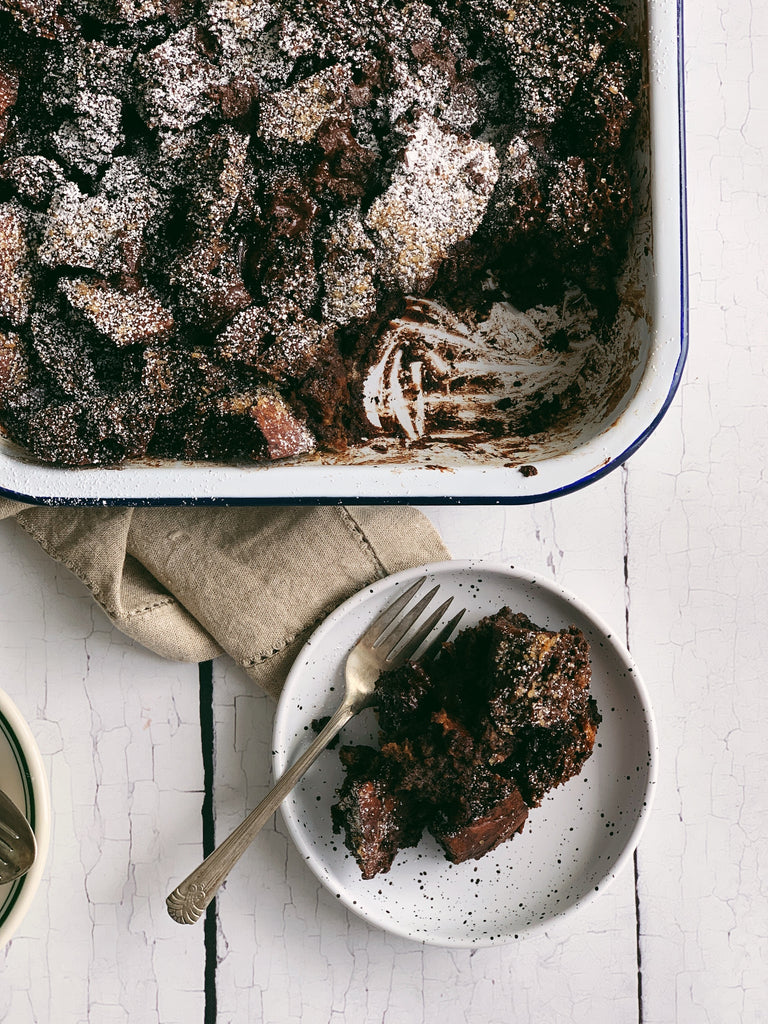 Rich. Chocolatey. Buttery. Warm. What's all these things, and made with real sourdough bread?

Chocolate Bread Pudding, that's what! Traditional bread puddings are often made with brioche, but we have recreated this dessert using our sourdough bread and the result is a delicious, rich and decadent bread pudding. This is one you don't want to miss, especially when you're craving some serious chocolate. Go make this!

cooking time: 20 minutes active, 45 minutes inactive
1 loaf of FTLOB sourdough batard, torn into small pieces

butter for greasing
150 grams 70% dark chocolate, roughly chopped
245 grams semi-sweet chocolate, roughly chopped
850 ml whole milk
115 grams caster sugar
2 tbsp cocoa powder
5 eggs, beaten
1 tbsp pure vanilla extract
pinch of salt
2 tbsp turbinado sugar
icing sugar for finishing
Grease a large baking dish evenly with butter. Place the sourdough bread pieces in the baking dish and mix in 100 grams of the 70% dark chocolate pieces, set aside. Set a saucepan on medium-low heat. To the saucepan add the semi-sweet chocolate pieces, 425ml of milk, the caster sugar and cocoa powder. Let the chocolate melt until smooth, stirring often. Once melted transfer the chocolate mixture to a large bowl. Add in the beaten eggs, the remaining 425ml of milk, vanilla extract and a pinch of salt. Mix well until combined.

Pour the mixture into the baking dish over the bread pieces. Scatter the remaining 50 grams of 70% dark chocolate over the bread pieces and sprinkle the turbinado sugar evenly on top. Let the pudding rest for 30 minutes for the liquids to absorb into the bread. 
Preheat the oven to 175°C. Bake the pudding for 45 minutes or until set. 
To serve
Finish with a dusting of icing sugar. Feel free to serve this bread pudding with whipped cream or vanilla ice cream.