Cottage cheese toast with infused hot olive oil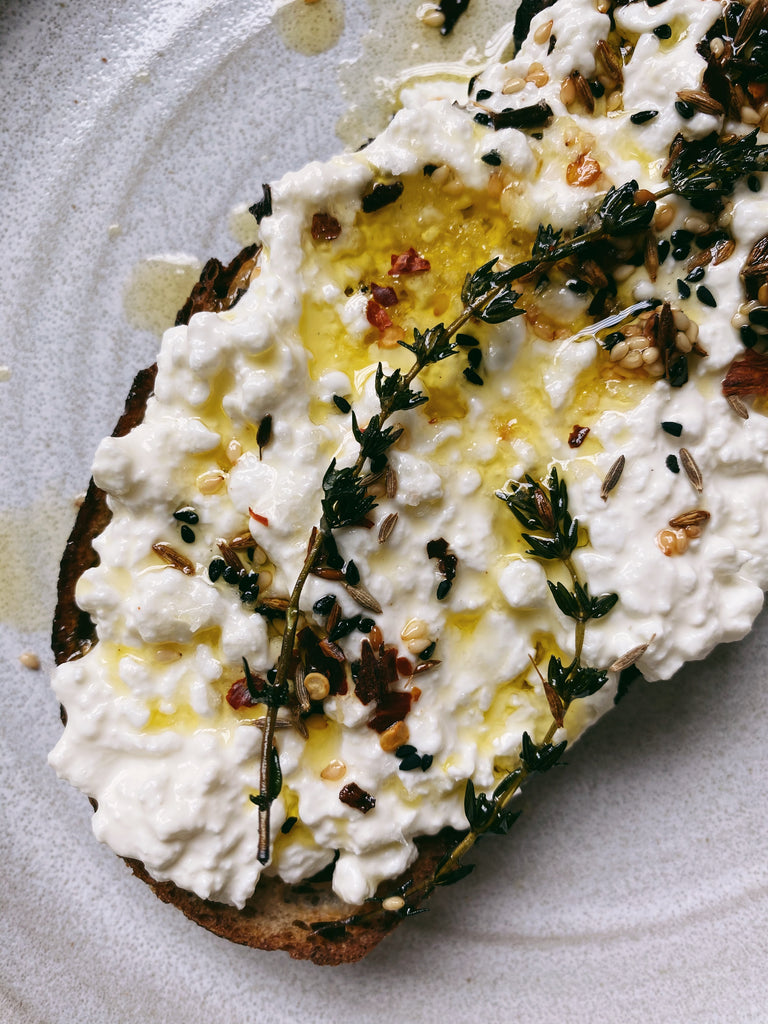 One of the simplest ways to add flavor to your toast is with an infused oil — we've seen this tempering of oil with spices, seeds, and herbs used in many dishes to add flavor and depth (i.e. daal with tarka) and thought it would work wonderfully on toast as well. We temper olive oil with chili flakes, nigella seeds, cumin seeds, sesame seeds, and fresh thyme and while it's still hot pour it on to cottage cheese that's been spread on our toasted sourdough. It just takes a few minutes, but yields great flavor!
1 1/2 tbsp extra virgin olive oil

pinch of chili flakes
pinch of cumin seeds
pinch of nigella seeds
pinch of sesame seeds
sprig of fresh thyme
1 slice For the Love of Bread organic country sourdough batard, toasted
3 heaping tablespoons of cottage cheese
flaky salt, to finish
Heat the olive oil in a medium size skillet over medium heat. 
Once the olive oil is glistening, add the chili flakes, cumin seeds, nigella seeds, sesame seeds, and thyme. 
Let the oil temper while swirling the pan around allowing the spices, seeds, and thyme to bloom, about 3 minutes until slightly toasted but not burnt. 
To assemble, spread the cottage cheese generously over the toasted sourdough slice. 
Immediately pour the hot infused olive oil over the cottage cheese and finish with a sprinkle of flaky salt. Enjoy!