Cream Cheese & Blueberry Preserve on Toast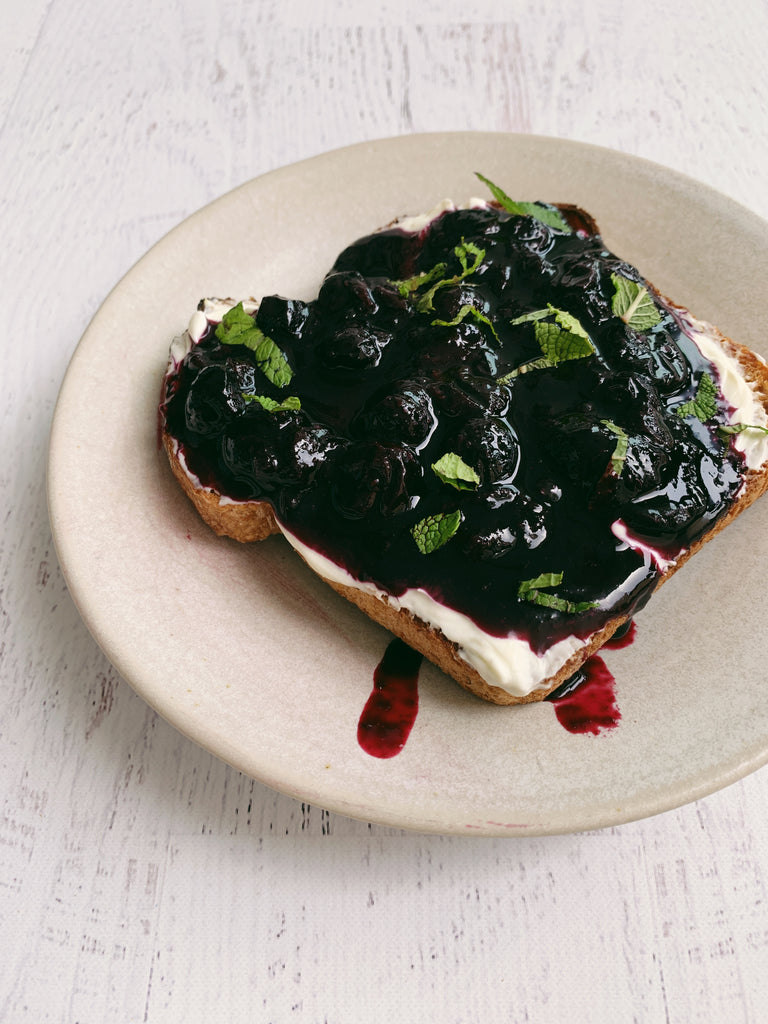 Our founder, Rami, loves blueberries. He also loves cheesecake. In fact, his favorite dessert of all time is blueberry cheesecake. Our recipe developer was not aware of this when she created this week's delicious toast reminiscent of the nostalgic dessert, and made Rami a very happy man. Cream cheese infused with lemon zest topped with blueberries cooked down till plump and syrupy on whole-wheat sourdough, all sprinkled with sprigs of fresh mint. Dessert disguised as breakfast and we are here for it.

cooking time: 20 minutes
For the blueberry preserve:
250 grams fresh blueberries
juice from 1/2 a lemon
1 tbsp pure maple syrup (if you like things sweeter, feel free to add an additional 1 tbsp) 
Place the blueberries, lemon juice and maple syrup in a saucepan over medium heat. Let cook for 15 minutes while using a large spoon to mash the blueberries so that they break down. Set aside.
For the cream cheese:
100 grams cream cheese
zest from 1/2 a lemon
 Mix the cream cheese with the lemon zest till combined. Set aside.
To Assemble: 
2 slices of For the Love of Bread organic whole wheat sourdough sandwich bread, toasted

lemon zest cream cheese

blueberry preserves

fresh mint leaves, roughly chopped
Spread the cream cheese evenly over each toast. Generously spoon the blueberry preserves on top. Garnish with mint, and 
ENJOY!