Crème fraîche and caramelized banana toast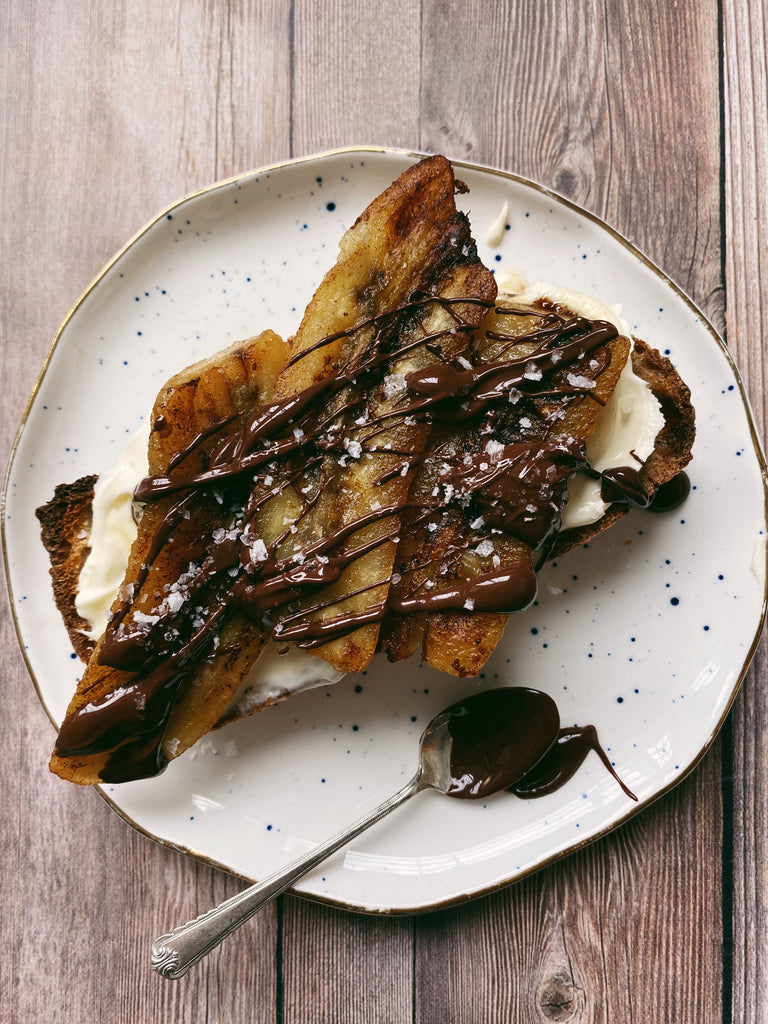 We love those quick 10-minute tricks that transform simple ingredients into something exciting and decadent. Take the humble banana - we toss it in a pan with a tablespoon of butter, and all of a sudden you've got yourself a nutty-caramelized treat. It doesn't stop there. We then spread a thick slather of rich crème fraîche on our toasted sourdough. Now if we've come this far, we'll need some chocolate...melted chocolate of course. And last but not least, a sprinkle of flaky sea salt, because chocolate always tastes better with salt. Dessert on toast, we've done it before and we will continue to do it for as long as we can!

For the caramelized bananas
1 banana, peeled and sliced vertically

1 tbsp salted butter
Heat a skillet over medium heat. Add the butter and once it starts to gently sizzle, add in the banana slices (flat side down first). Let caramelize for about 2-3 minutes per side, till deep-golden brown on both sides.
For double boiler method

Heat a saucepan with about 2 inches of water over medium heat.

Once the water reaches a medium simmer, place a heat-proof bowl to fit inside the saucepan. It should be large enough to rest comfortably on top of the saucepan.
Chop the chocolate roughly and add it to the bowl.
Let the chocolate melt over the double boiler, stirring with a spatula, about 3-5 minutes.
To assemble
1-2 slices of For the Love of Bread organic country sourdough batard, toasted

20 grams of 70% dark chocolate, roughly chopped then melted (30 seconds in the microwave or in a double boiler*)
flaky sea salt
Spread the crème fraîche generously on the sourdough toast. Place the caramelized bananas on top. Drizzle the chocolate over the bananas and finish with a sprinkle of sea salt. Enjoy!