EGG AND CHEESE SANDWICH ON BRIOCHE BUNS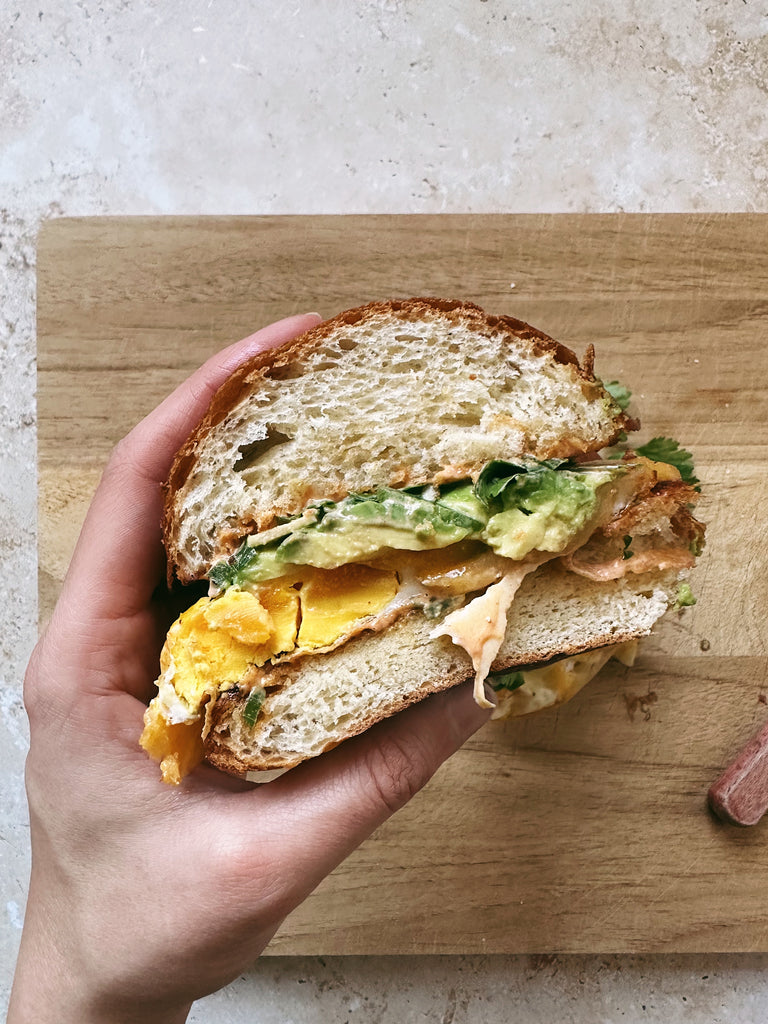 We truly believe an egg and cheese sandwich is an any time of day food. It comes together quickly, you can use a variety of everyday ingredients, and it never fails to satisfy. This egg sandwich is filled with bold flavor and zest. We start with making a spicy harissa mayo that gets slathered on a fluffy brioche bun, a fried egg — cook it to your liking, but we love those lacy edges, with cheddar cheese, sliced avocado, fresh jalapeño, and cilantro. Yum!
INGREDIENTS
2 Tbsp mayonaise

1 tsp harissa paste

1 tsp finely chopped scallions

1 Tbsp butter

1 For the Love of Bread brioche bun, halved

1 egg

1/4 cup shredded cheddar cheese

1/2 avocado, sliced

1/2 of a fresh jalapeño, thinly sliced (feel free to lessen quantity if sensitive to spice) • handful fresh cilantro

salt & freshly cracked black pepper, to taste
METHOD
In a small bowl, combine the mayonnaise, harissa, and scallions with a pinch of salt. Mix well.

Heat the butter in a medium size skillet over medium heat and toast the brioche bun halves until golden brown. Remove and set aside.

Wipe the pan with a paper towel and add more butter into the same pan on medium heat.

Once the butter starts to simmer carefully crack the egg into the pan.

Season with salt and pepper to taste.

Fry the egg until the edges are crisp and the yolk reaches your desired level of doneness. Flip once for a well-done yolk, about 3 minutes.

Shut the heat off and immediately add the cheddar on top. Cover with a lid so that the cheese melts.

To assemble the sandwich, generously spread the harissa mayo onto both bun halves.

Add the cheesy fried egg on top of one half with the avocado, jalapeño, and cilantro. Season with a pinch of salt and place the remaining brioche half on top to close into a sandwich.

Enjoy immediately.