Grown Up PB&J with Chia Jam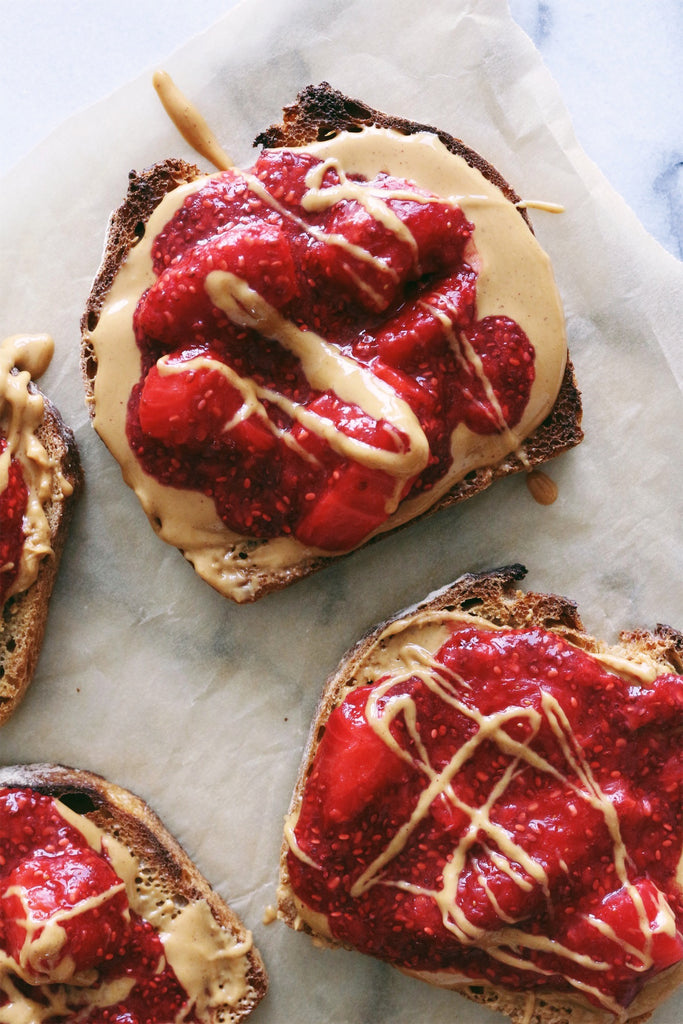 Classic peanut butter & jelly - all grown up. One of the things we have always wanted to make is a delicious fruit jam that wasn't chock full of sugar. We recreated our childhood favorite so that it's much better for you, with no refined sugars, artificial sweeteners, thickeners or processed white bread.

It's made with two kinds of berries, maple syrup (or honey) and nutritious antioxidant chia seeds, which act as a natural thickening agent. We recommend switching to a no-sugar nut butter and luckily they're widely available now at grocery stores, as is our country sourdough sandwich loaf. This wholesome pb&j with chia jam recipe is number 5 on our list of #100Ways to love bread again. 

yield: 500 grams / about 2 cups of jam
time: 15 minutes active / 20 minutes inactive
400 grams strawberries, hulled & halved

125 grams raspberries

3 tbsp maple syrup or honey

1 tbsp fresh lemon juice
1/2 tsp pure vanilla extract
pinch of salt

2 tbsp chia seeds
Place the strawberries and raspberries in a saucepan over medium heat.

 Cook for 6-8 minutes while using a large spoon to mash the berries so that they break down. Add the maple syrup or honey, lemon juice, vanilla extract, salt and mix. Let cook for an additional 2 minutes.

 Remove the saucepan from the heat and add in the chia seeds, mix well.

 Let the jam sit for 20 minutes to thicken.

 Transfer to a jar and store in the fridge.
To serve
For the Love of Bread country sourdough sandwich bread, toasted

peanut butter or your favorite nut butter.
Spread the peanut butter generously on top of the sourdough. Spoon the chia jam on top.

 Take a bite, close your eyes and you're 7 years old again :)
Recipe Notes
We are basically cooking down fruit to bring out its' juices. Adding the chia seeds is the thickening agent which helps create that jammy feel.
If you prefer a smoother jam (we've kept some of the chunkier bits intact, feel free to blitz the jam in a food processor after you've added in the chia seeds.
You can try this same recipe with stone fruits or seasonal berries.