Mascarpone and Blackberry Stuffed French Toast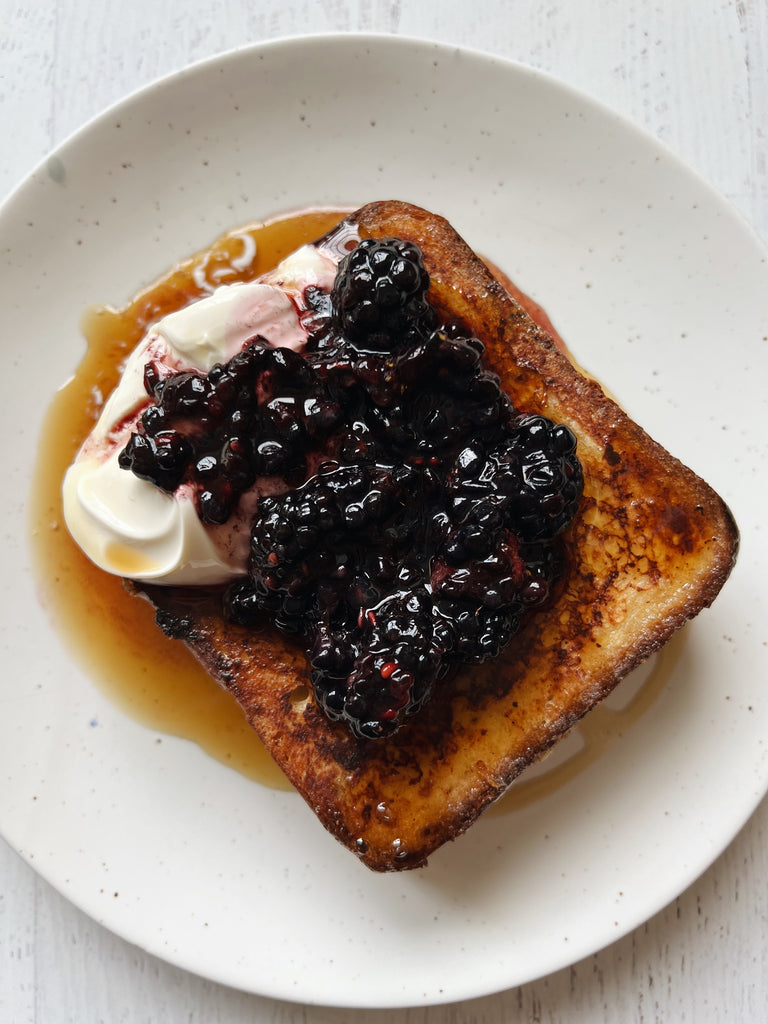 This stuffed french toast is slightly indulgent and perfect for a slow Saturday morning. Creamy mascarpone cheese, smashed tart blackberries, and a bit of lemon zest gets sandwiched between two slices of buttery brioche. Coated in a traditional french toast batter and fried in butter — it's delicious, rich, and just what you need after a long week.
INGREDIENTS
1 egg
1/2 cup whole milk
1 tsp pure vanilla extract
1/2 tsp ground cinnamon
1/4 tsp salt
2 thick cut slices For the Love of Bread Traditional French Brioche
1/4 cup mascarpone cheese
1/2 cup blackberries
1 tsp turbinado sugar
1/2 tsp lemon zest
butter, for frying
maple syrup, for serving
METHOD
In a small bowl, use a fork to mash the blackberries with sugar and lemon zest until a jammy consistency is reached.
Spread the mascarpone cheese evenly onto one slice of brioche and top with the mashed blackberries.
Place the remaining slice of brioche on top and close into a sandwich.
In a separate shallow bowl, whisk the egg, milk, vanilla, cinnamon, and salt until combined.
Dip the sandwich in the egg mixture until evenly coated on all sides.
Heat a medium-size skillet over medium heat with a knob of butter.
Gently transfer the stuffed french toast to the skillet and fry until golden brown on all sides, about 2-3 minutes per side.
Enjoy immediately with a dollop of mascarpone cheese, blackberries, and maple syrup.