Mascarpone Toast with Roasted Strawberries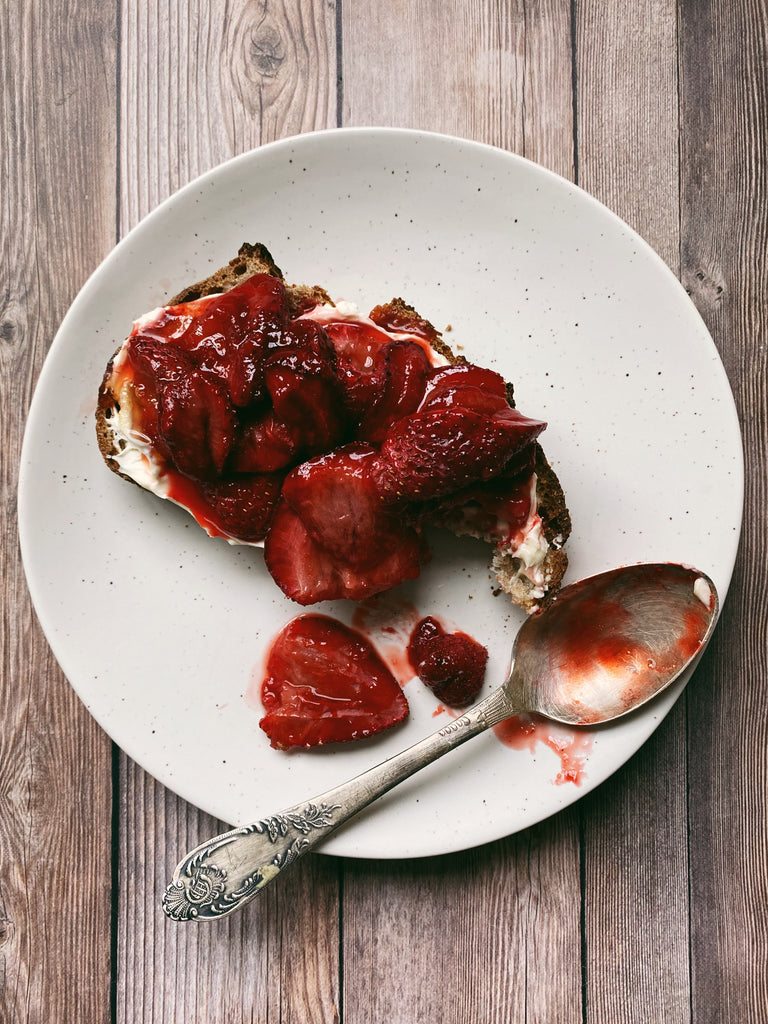 They're here! It's the start of another season, which means lots of beautiful red strawberries for nibbling, baking and preserving. While we always try to pick the most perfect punnet, we've all gotten that sad box of berries in the grocery store. You know, the ones without any flavor, tenderness or sweetness...basically pebbles! One of the best (and easiest) ways to liven up that oh-so-sad fruit is by roasting it the oven. We put some pretty lifeless strawberries into the oven with a dash of vanilla and a squeeze of lemon juice and after 30 minutes they morphed into juicy plump morsels of goodness! We spread creamy mascarpone cheese on our sourdough slice, spooned the roasted strawberries (& juices) on top and finished it off with a drizzle of honey. Strawberry shortcake vibes all the way! 
For the roasted strawberries

300 grams strawberries, hulled (if large, slice in half)

1/2 tsp pure vanilla extract
1 tbsp lemon juice
pinch of salt
Preheat oven to 175C/350F. Place the strawberries on a baking sheet with the vanilla extract, lemon juice and salt. Toss to combine. Roast in the oven for 30 minutes until juicy and lightly roasted
To assemble and serve
For the Love of Bread organic country sourdough batard, sliced and toasted

mascarpone cheese
honey
Spread the mascarpone cheese generously on the sourdough toast.Spoon the roasted strawberries with its' juices on top. Finish with a drizzle of honey and enjoy!