Menemen, or Turkish Style Eggs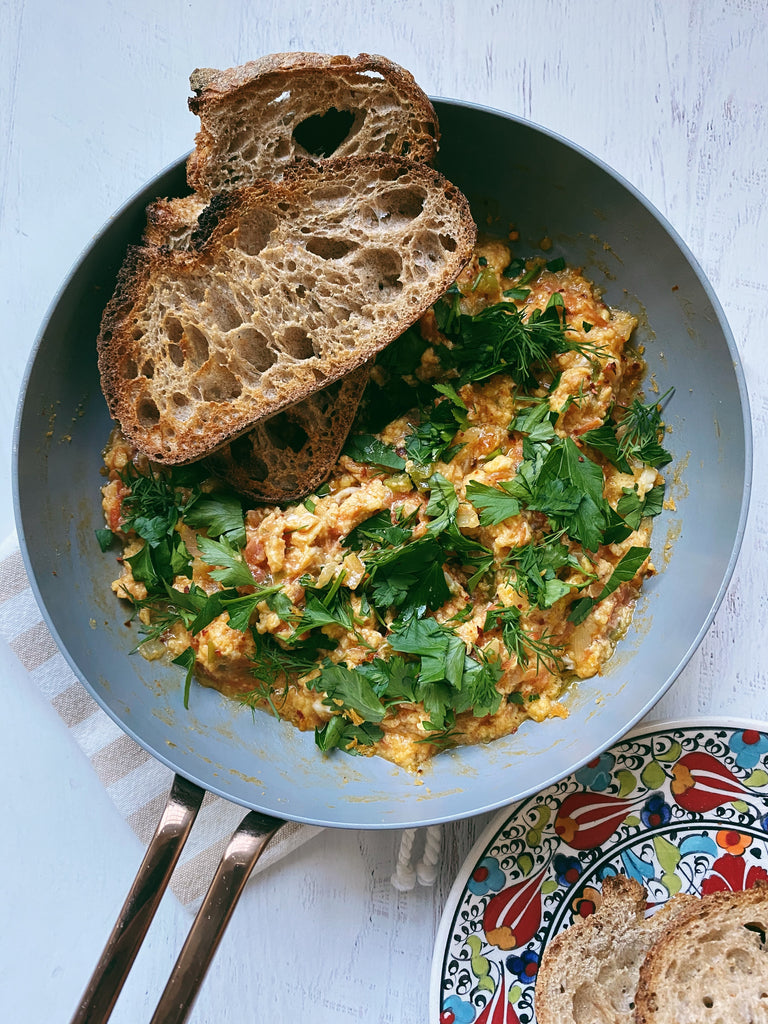 Menemen is a popular egg dish from Turkey made with tomatoes, onions and chili. We find strong comparisons between menemen and other regional egg dishes such as Palestinian-style shakshouka and Yemeni spiced scrambled eggs (Adeni style) which both use similar ingredients.

Menemen is extremely simple, but packed full of flavor and perfect for a casual breakfast or brunch at home. The tomatoes are cooked down until jammy and stew-like which contrasts perfectly with the spice of the chili and aleppo pepper. We enjoy this traditional egg dish with toasted sourdough and a cup of hot tea!
3 tbsp extra virgin olive oil, divided

1 medium onion, finely chopped
1 long spicy green pepper, finely chopped (feel free to use jalapeño, serrano, anaheim)
1 tsp aleppo pepper divided
1 tsp salt divided
2 medium tomatoes, finely chopped
4 eggs, beaten
dill and parsley, roughly chopped
Heat 2 tablespoons of olive oil in a skillet over medium heat. Add the onion, green pepper, 1/2 teaspoon of aleppo pepper, 1/2 teaspoon of salt and let cook for 3-4 minutes until the onion and green pepper are softened. Add the tomatoes and let cook for 5 minutes until the tomatoes are stewy and jammy. Lower the heat to medium-low and add the remaining tablespoon of olive oil into the pan. Add in the beaten eggs, the remaining 1/2 teaspoon of aleppo pepper and the remaining 1/2 teaspoon of salt. Gently fold the eggs till softly scrambled, about 3-5 minutes.
To serve
Serve immediately. Garnish with fresh dill and parsley. Serve alongside sliced and toasted For the Love of Bread organic whole wheat sourdough batard and enjoy!