Pakistani (desi) Omelet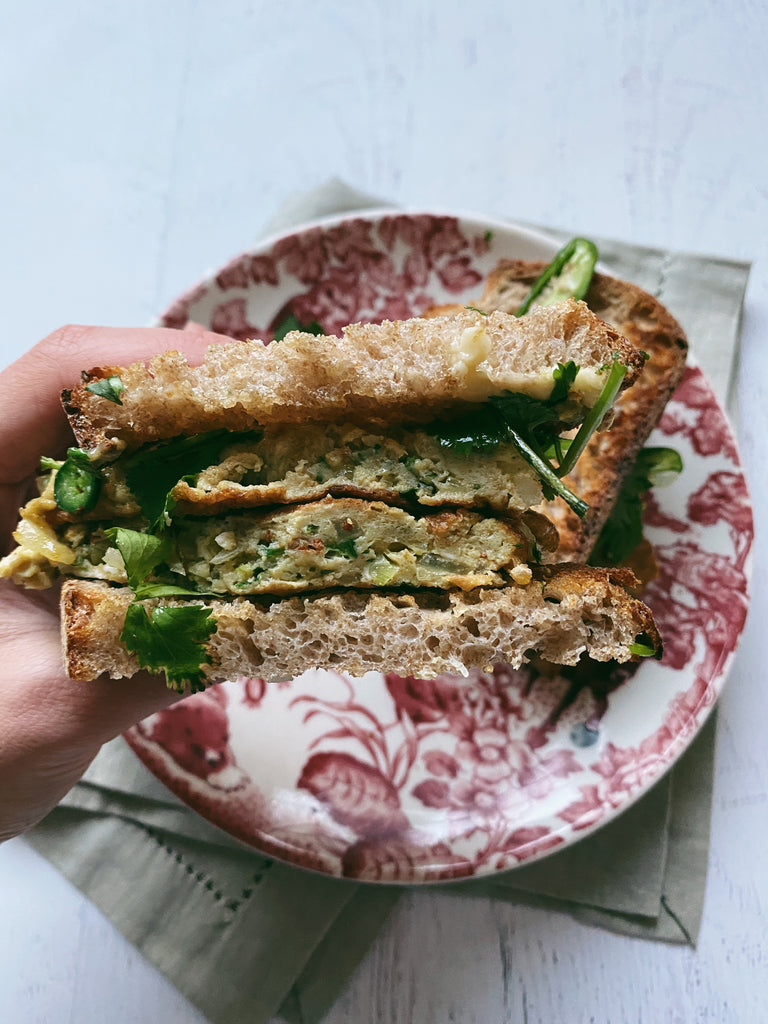 We aren't quite sure what the formal name is, but we know it as Pakistani (desi) omelet, a comforting nostalgic staple on almost every South Asian table. This isn't the fluffy French omelet you might be imagining, we flatten this guy out with a spatula as much as we can. It's a thin omelet that's often folded in quarters and filled with onion, green chilies, coriander and spices. Every desi mother has her own technique and we've been inspired to create our own version that we hope does justice! We enjoy this closed into a sandwich or open-faced on buttered sourdough toast. 
For the omelet
3 eggs, beaten

1/2 a medium onion, finely chopped
1-2 green chilies, sliced
handful coriander, chopped
1/4 tsp ground cumin
1/4 tsp cayenne powder
1/4 tsp garlic powder
1/2 tsp salt
2 tbsp neutral oil
Add the onion, green chilies, coriander, ground cumin, red chili powder, garlic powder and salt to the beaten eggs. Heat the oil in a skillet over medium heat. Pour the egg mixture into the skillet and let cook until the edges begin to firm up and brown, about 3 minutes. Flip the omelet over completely OR fold it in half while using your spatula to flatten the omelet as it cooks. Let cook until the omelet is fully done and golden brown, about 3-5 minutes more.

To assemble and serve
2 slices of For the Love of Bread organic whole wheat sourdough batard, toasted and buttered.
Cut the desi omelet into quarters and serve layered as an open-face or closed sandwich. Enjoy!