Pan con tomate on rye with manchego shavings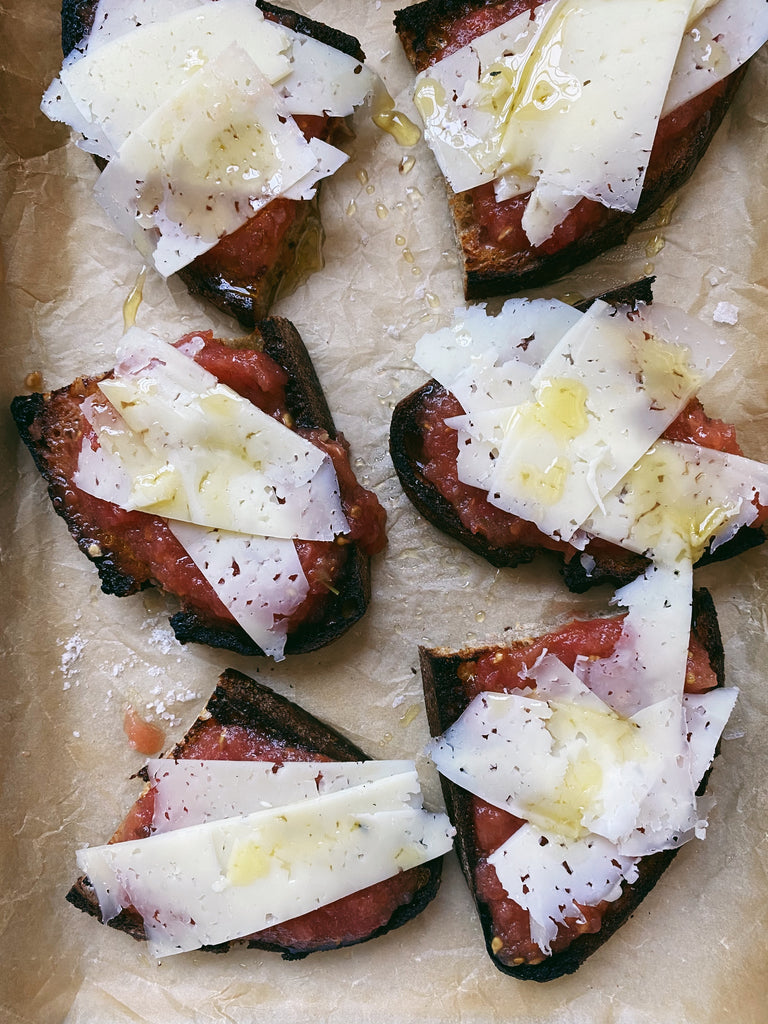 We are so thrilled with the positive response we've received for our first pairing of manchego cheese and rye. Today we are sharing a recipe that showcases the pairing - pan con tomate (a wildly popular Spanish tapas dish) topped with manchego shavings.
Our rye gets coated in glossy olive oil and toasted till crisp, a rub of a garlic clove while still warm infuses the bread with garlicky goodness. Juicy tomatoes get broken down on a box grater (the best way in our opinion), thin delicate shavings of manchego, olive oil, and salt — what more do you need? This classic dish is perfect as a starter for a small gathering or as a snack anytime of day. It's just a handful of simple ingredients that yields delicious results, and a great way to use up any tomatoes on the counter.

(serves 2 as an appetizer but feel free to adjust as required — the measurements are not so important)
2 large beefsteak/heirloom tomatoes

 3 slices For the Love of Bread organic French rye sourdough, halved
extra virgin olive oil
1 garlic clove, peeled
flaky salt
manchego cheese, shaved with a vegetable peeler
extra virgin olive oil
Using the large holed side of a box grater, grate the tomatoes over a bowl, preserving the flesh and discarding the skin. It will resemble a tomato puree. 
Set the oven to the broil setting and place the rye slices onto a sheet pan. 
Generously brush extra virgin olive oil onto the bread, getting into all the nooks and crannies. 
Place under the broiler until well-toasted, about 3 minutes. 
Remove from the oven and immediately rub the surface of the toasts with the garlic clove. 
Spoon the tomato mixture onto the toasts and season generously with salt. 
Add the manchego shavings on top and drizzle with extra virgin olive oil to finish. 
Serve immediately and enjoy!