Roasted Garlic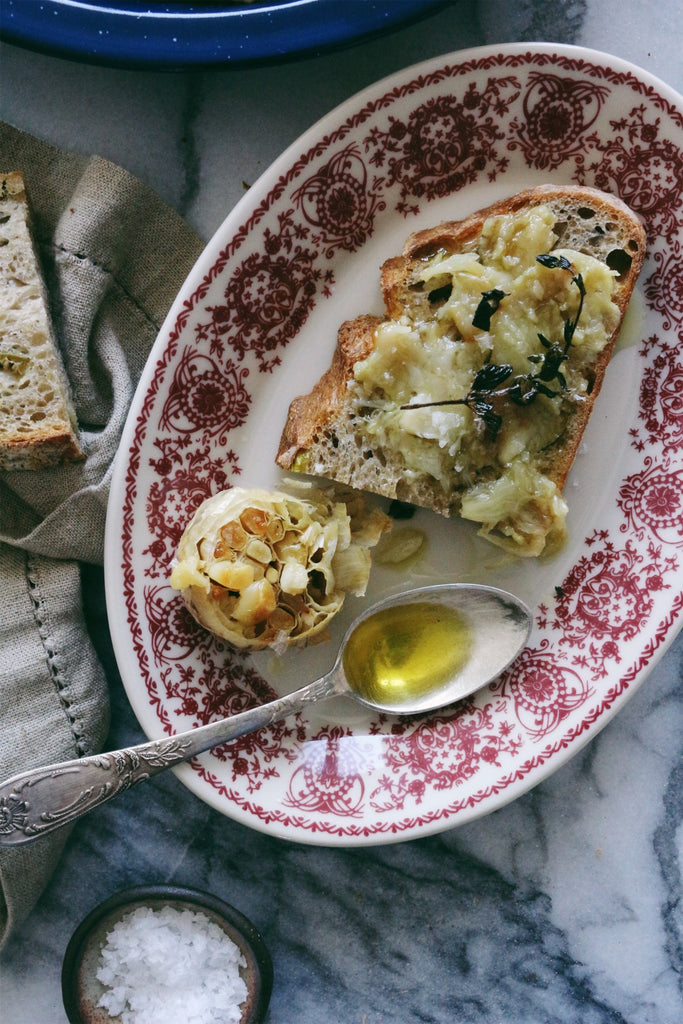 Garlic is such a common ingredient in Arabic food it's easy to overlook. While we love dipping our grilled chicken in toum - traditional garlic sauce - you can also slow roast garlic for a mellow and buttery flavor. It's incredibly spreadable on bread and perfect for your avocado toast, in a sandwich or with eggs.

We paired the roasted garlic with our olive & zaatar sourdough. Olives, zaatar and garlic - that awesome trifecta of Arabic cooking packed with health benefits! #100ways

cooking time: 10 minutes active, 45-70 minutes inactive (cooking time varies)
heads of garlic, intact with the skins on (8-10 large heads or 15-18 smaller heads)

4 sprigs fresh thyme
4 sprigs fresh oregano
2 sprigs fresh rosemary
2 whole red chilies
1 tsp pink peppercorns (or substitute with black)
1/2 tsp salt
1 cup extra virgin olive oil
Preheat the oven to 190°C. Slice the top off the heads of garlic, so that the cloves are exposed and partly visible. Place all the garlic heads in a single layer in an oven-safe dish. Add the thyme, oregano, rosemary, red chilies, pink peppercorns and salt. Pour enough olive oil into the dish so that garlic heads are partly submerged. Cover the dish with foil and roast for 45 minutes. After 45 minutes, remove the foil and check with a knife for tenderness. It should be completely soft. If not - cover with foil again and place back in the oven for an additional 15 mins or until tender. Once the garlic is completely soft, remove the foil from the dish and increase the oven temperature to 204°C. Let roast one last time (uncovered) until golden brown and caramelized, about 10 minutes. Remove roasted garlic from the oven and let cool. Once cool, carefully slip the garlic cloves from the skin (they will be soft & mushy) and place into a jar. Discard skins, herbs & chili. Pour the remaining oil into the jar on top of the roasted garlic. The roasted garlic is best served warm but can be kept in the fridge for up to 1 week.

To serve
Spread roasted garlic on warmed FTLOB olive & zaatar sourdough.

Drizzle with reserved olive oil & sprinkle with sea salt.