Roasted Harissa Carrots & Feta Toast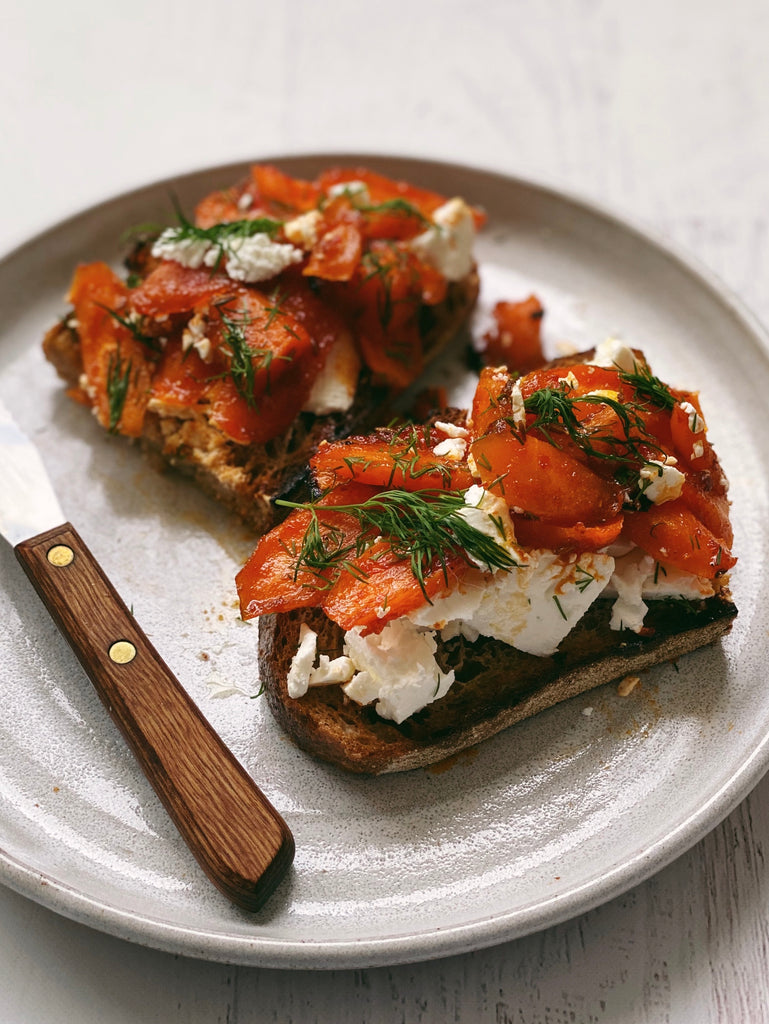 #100Ways adapted! With most of us in isolation things have changed quite a bit since our last recipe post. A lot of you are cooking much more than ever before but it's not easy to find all your favorite ingredients anymore. So, we're adapting our recipes as much as we can to ride the current wave, keeping them as simple as possible without waste or an excessive list of ingredients.

This week we've put together a recipe for roasted harissa carrots and feta toast. Luckily we had a tube of harissa paste hiding in the back of our pantry, but if you cannot get your hands on any, feel free to substitute with any sort of chili paste, chili sauce or even just chili flakes. We've been trying to stock up on resilient, hearty vegetables like carrots, potatoes, celery, beets, etc — they last for ages without spoiling. We roast the carrots in a glaze of harissa, honey, garlic, and cumin seeds. They come out of the oven caramelized and so so spicy (the good kind of spicy). Paired with creamy, briny feta cheese and our toasted sourdough bread, this is a simple, healthy recipe for any time of day.

For the roasted carrots
2 carrots, peeled and sliced

1/2 tbsp harissa paste
1 tbsp honey (or maple syrup)
1 tbsp extra virgin olive oil
1 garlic clove, grated
1/4 tsp cumin seeds
1/4 tsp salt
Preheat the oven to 425F/218C. In a small bowl mix the harissa paste, honey, olive oil grated garlic, cumin seeds, and salt till combined - it will be the texture of a glaze. Place the carrot slices on a sheet pan lined with parchment paper or foil and pour the harissa glaze on top. Toss till combined. Roast the carrots in the oven for 20 minutes till golden and caramelized.

To assemble and serve
1 slice of For the Love of Bread country sourdough batard, toasted

100 grams feta cheese, cut in rough slices (feel free to substitute grilled halloumi or any soft goat cheese)
roasted harissa carrots
fresh dill (feel free to substitute fresh parsley, cilantro, or mint)
extra virgin olive oil to finish
Place the feta on top on the toast. Add the roasted carrots on top. Finish with dill and a drizzle of olive oil. Enjoy!