Savory french toast with tomatoes, parmesan, and herbs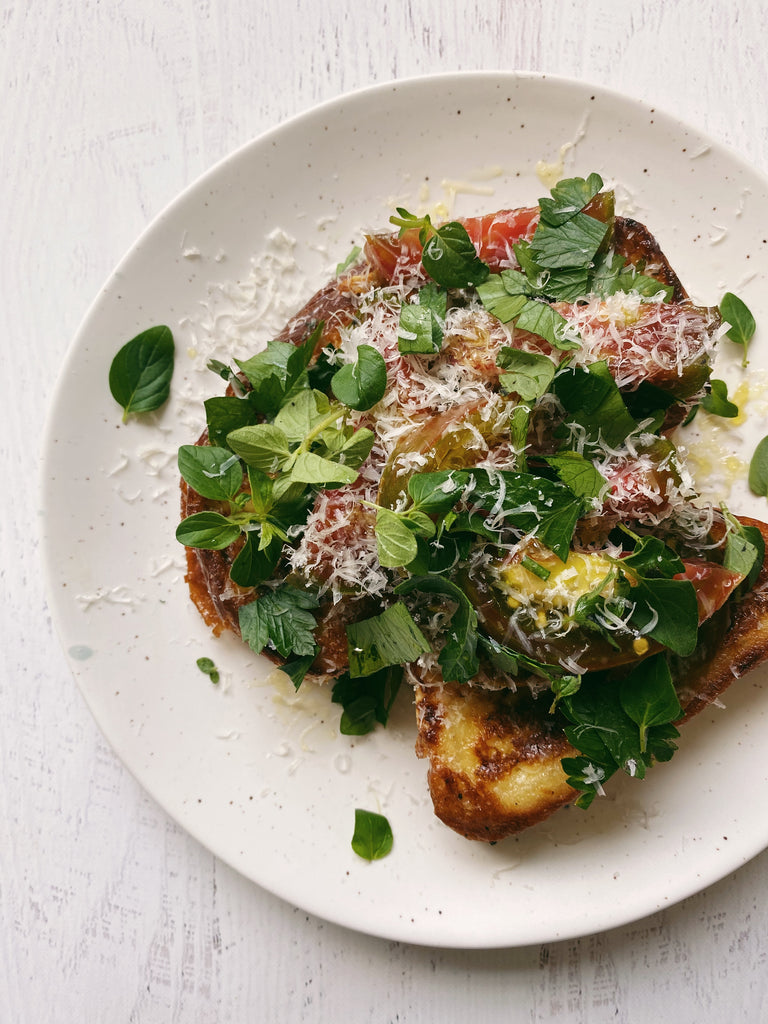 French toast doesn't have to be sweet — we take a savory approach to this classic breakfast favorite in today's recipe. A thick slice of brioche is soaked in an herby egg batter and then fried in olive oil and butter till golden brown. The toast is topped with juicy tomatoes, grated parmigiano reggiano, fresh herbs, olive oil, and flaky salt to finish. Perfect for breakfast, lunch, or dinner!
1 egg, beaten

1/2 cup full-fat milk
2 sprigs fresh thyme leaves
2 sprigs fresh oregano leaves
1/4 tsp salt
a few cracks of black pepper
1/2 tbsp extra virgin olive oil
1/2 tbsp butter
1 thick slice For the Love of Bread brioche
In a shallow dish, beat the egg with the milk, thyme, oregano, salt, and pepper. Soak the brioche slice in the egg mixture for 3 minutes, flip the slice and soak the other side for another 3 minutes. Heat the olive oil and butter in medium-size skillet over medium heat. Add the brioche slice and fry till golden brown on both sides (about 3-4 minutes per side). Transfer to a serving plate.

To assemble:
1 medium-size tomato, cut into wedges

grated parmigiano reggiano
fresh parsley, roughly chopped
fresh oregano, roughly chopped
extra virgin olive oil, to finish
flaky salt, to finish
Serve the brioche topped with the tomato wedges, grated parmigiano reggiano, parsley oregano, a drizzle of olive oil, and a sprinkle of salt. Enjoy!