Shahi Tukray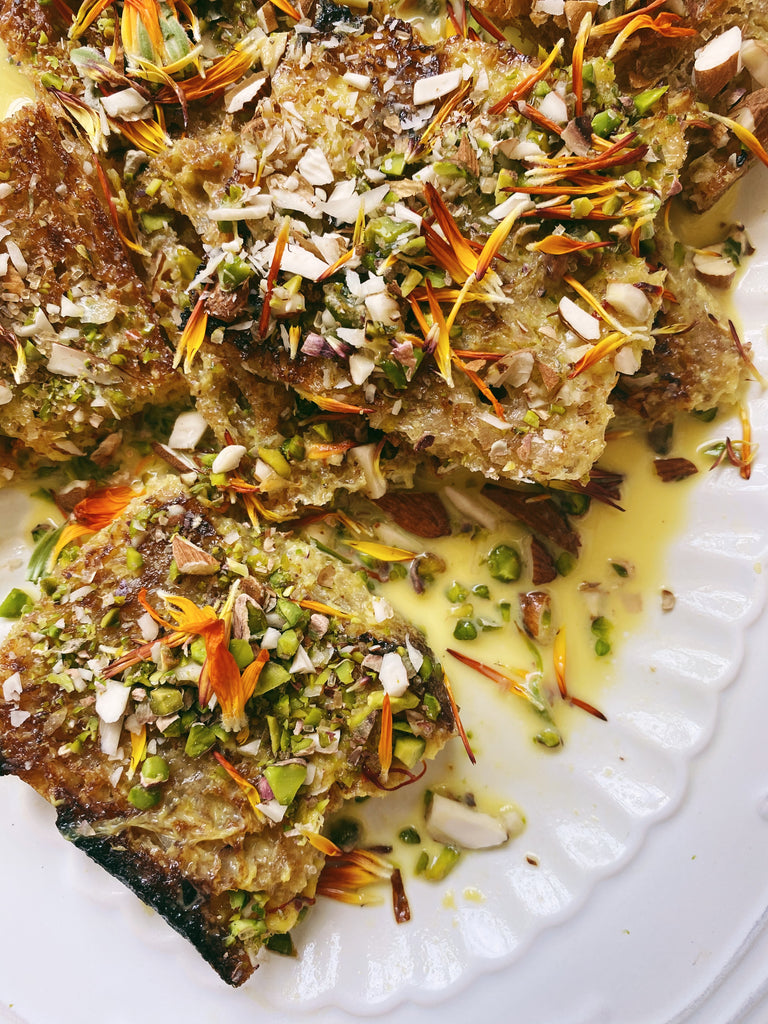 Shahi Tukray, Shahi Tukda, Shahi Tukra, Double Ka Meetha — the many names of this festive sweet dish originating from the Mughals is one of the most popular desserts from Hyderabad. It is enjoyed across all of Pakistan and Northern India, particularly during festive occasions. Shahi Tukray is translated as "royal piece," and has many origin stories. Some say it is inspired by the Egyptian Umm Ali and brought over by Mughal emperor Babur. There are even some stories that it was created to satiate British colonizer pudding cravings under the East India Company.

Shahi Tukray is traditionally made with ghee-fried white bread soaked in boiled milk that's been sweetened with sugar and infused with cardamom and saffron. We also found many different variations to the recipe: some used condensed milk, some soaked the bread in sugar syrup after frying, some added eggs and baked it in the oven similar to a bread pudding, some used khoya (dried evaporated milk solids), and many more. We asked our mothers who shared their own versions, and with that wealth of knowledge we share our own version — inspired by the beauty and craft of the original.
6 slices For the Love of Bread organic country sourdough batard (our sandwich bread would also work great here)

3 tbsp ghee
1 1/2 cups full-fat milk
1/2 cup sugar
4 cardamom pods, crushed
pinch of saffron
chopped pistachios, to finish
chopped almonds, to finish
turbinado sugar, to finish
Cut the crusts off the bread and cut into 2 1/2 inch x 2 1/2 inch squares (if using the sandwich bread feel free to cut each slice into 2 triangles for a more traditional look)
In a saucepan bring the milk, sugar, cardamom, and saffron to a boil. Reduce the heat to medium-low and let simmer for 30 mins until slightly thickened. Meanwhile heat the ghee in a skillet over medium heat and fry the bread pieces until golden brown on both sides. Use a spatula to press and flatten the bread adding more ghee if required. 
To assemble, place toasted bread on a large and pour sweetened milk over it. Garnish with chopped pistachios, almonds, and a sprinkle of turbina sugar. Enjoy!