The Best Jalapeño Grilled Cheese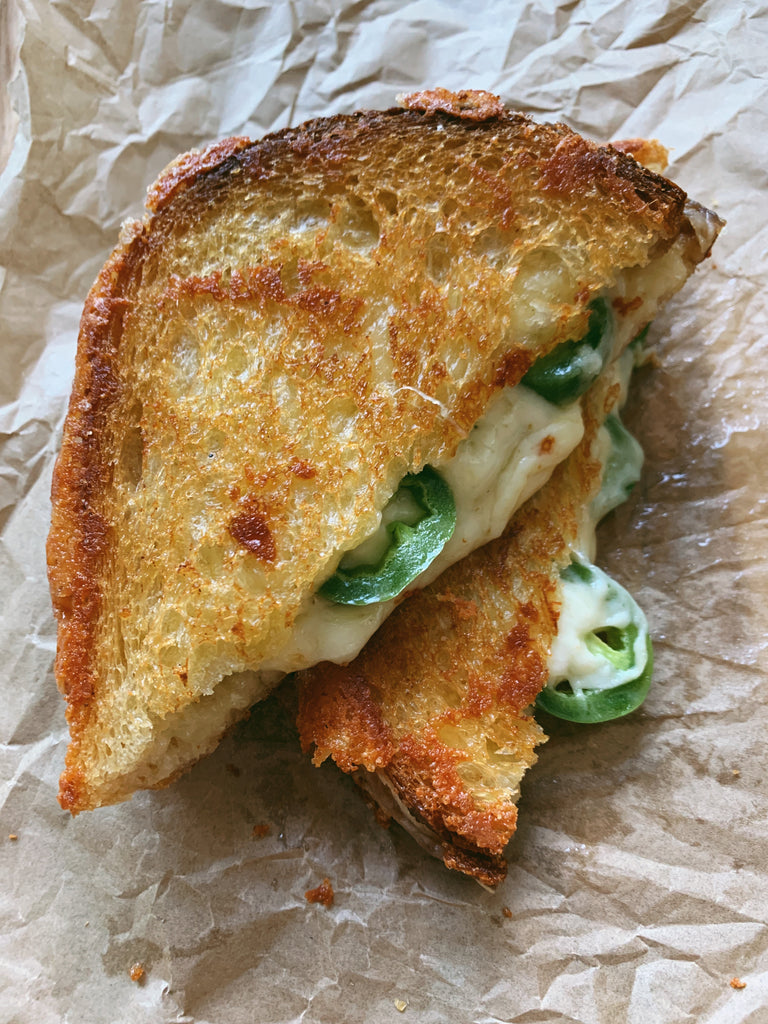 A classic grilled cheese goes down in our list of *all time* favorite foods. Who else agrees? We changed things up by adding a bit of heat with fiery jalapeño slices. We use fresh jalapeños over jarred as they have a fresher punchier bite. With lots of melted oozing cheddar cheese between buttery toasted bread, it's a warm, cozy blanket in sandwich form.
2 slices For the Love of Bread organic country bread

4 slices cheddar cheese
1 jalapeno sliced
room temperature butter
Heat a skillet over medium heat. Spread butter evenly and generously over one side of each slice of bread. Place one slice (buttered side down) onto the skillet. Place two slices of cheese on top. Add the jalapeño slices next. Add the remaining two slices of cheese over the jalapeños. Place the remaining slice of bread (buttered side up) on top to close into a sandwich. Let the cheese melt while the bread toasts, about 3-4 minutes. Flip the sandwich over and use a wide spatula to press the sandwich together. Feel free to let the cheese ooze and develop a delicious crust, another 3-4 minutes. Make sure both sides are golden brown before removing the grilled cheese from the pan.
Recipe Note
Feel free to remove the seeds if you'd like to tone down the spice.