The Ultimate Labneh Board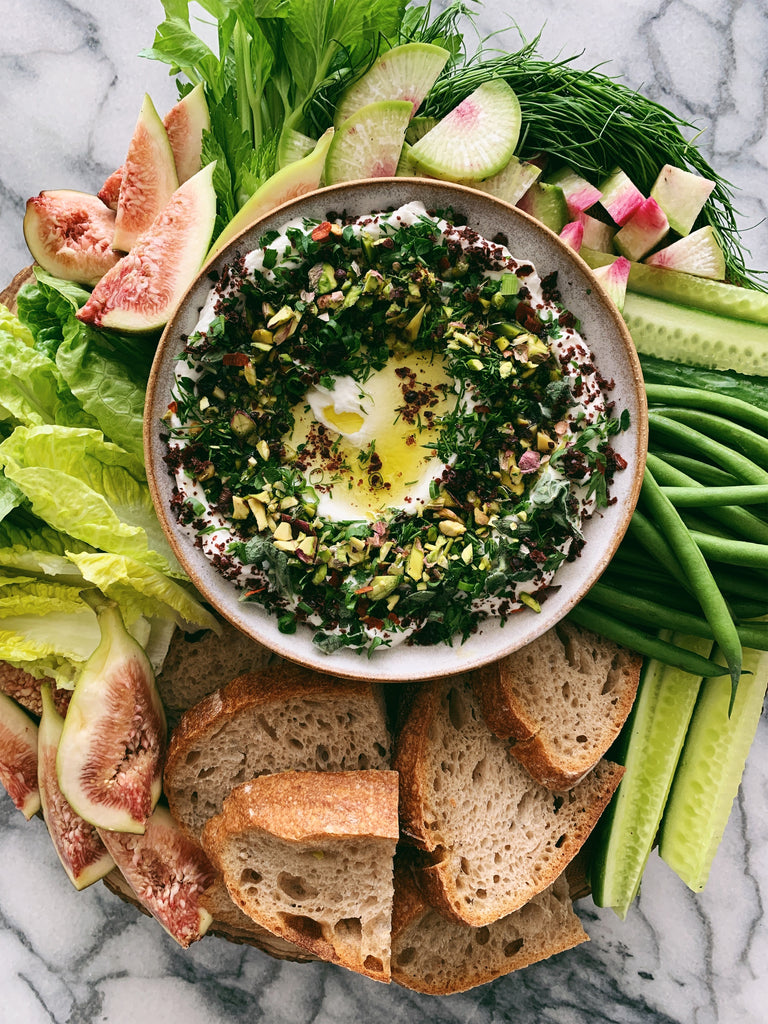 How gorgeous is this spread? The ultimate, fully-loaded labneh board, perfect for your next iftar or social gathering. And so easy to put together! We took creamy labneh and infused it with garlic & lemon, and then topped it with lots fragrant herbs, pistachios and spices. It's absolutely perfect for dipping our sourdough batard. Use any fruits or vegetables you have on hand, and fill up the board. The more abundant, the more inviting! We did a wreath design with a hollow middle for the labneh to create drama and effect, but feel free to style it however you like. Either way, this one is sure to impress.
cooking time: 15 minutes

For the labneh
400 grams creamy labneh

1 clove of garlic, finely grated
juice of half a lemon
1/4 tsp chili flakes
1/4 tsp sea salt
extra virgin olive oil
In a large bowl mix the labneh with the grated garlic, lemon juice, chili flakes and salt till smooth. Transfer the labneh to a serving bowl. Use a swirling motion with a spoon to create swoops and generously drizzle olive oil on top

labneh toppings
2 sprigs fresh oregano, finely chopped

1 spring onion (green part only), finely chopped
2 tbsp fresh dill, finely chopped
2 tbsp fresh parsley, finely chopped
3 tbsp toasted pistachios, finely chopped
1/4 tsp dried mint
1/4 tsp sumac
1/8 tsp chili flakes
Garnish the labneh evenly with all of the herbs. Feel free to use the wreath approach with a hollow middle for an aesthetic touch. Next, add the chopped pistachios on top. Finish with a sprinkle of dried mint, sumac and chili flakes

To assemble the board
half a loaf of For the Love of Bread sourdough batard, cut into small slices

veggies & fruits of your choice, we used: gem lettuce, green beans, figs, radish, cucumbers, celery
loaded labneh
Place the labneh dish in the middle of the board and generously adorn the sourdough bread, veggies and fruits around it. Dip dip dip and enjoy!