Toasted Pistachio Butter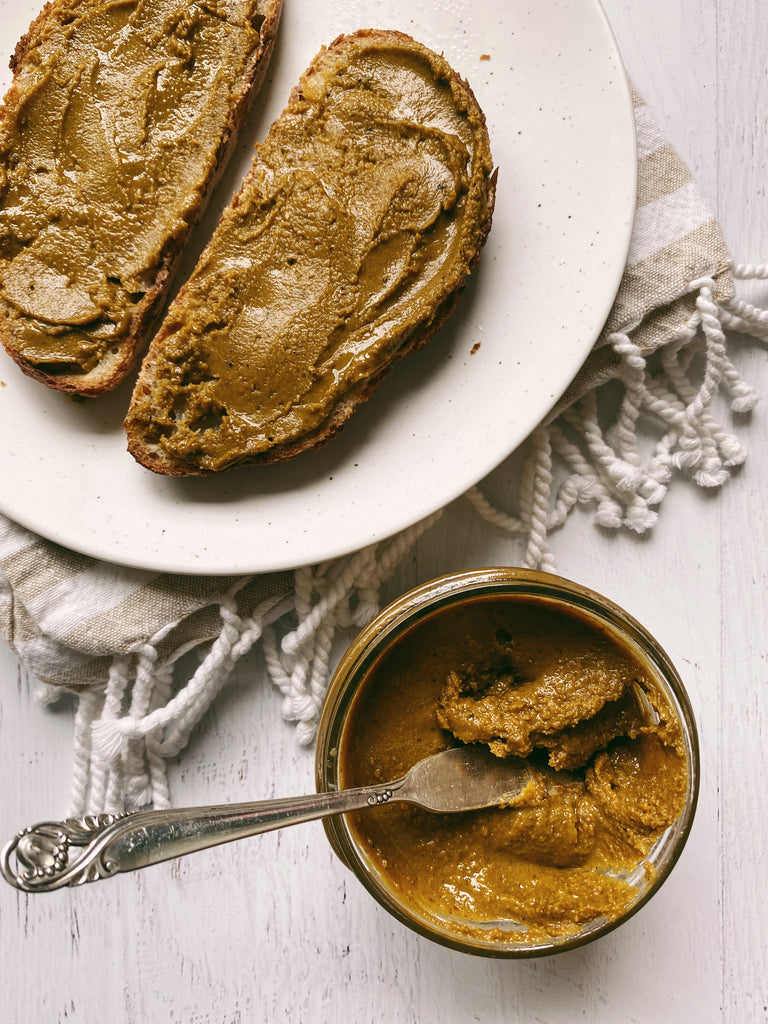 Pistachio, pista, pistache. Whatever you call them, these small green nuts are healthy, delicious, and the star ingredient of our first recipe of the year! We're kicking off 2020 with a nutritious toasted pistachio butter. Recently we've tried a bunch of desserts filled with pistachio sauce/butter, and whilst these are delicious we wanted a less sweet option without refined sugar to use at home.
Pistachio butter is just as easy to make as any other nut butter. The process is essentially the same: toast the nuts and process until smooth. This is not a raw pistachio nut butter, hence the lack of green color in the final product. We prefer to toast the pistachios in the oven for a deeper, toasty flavor note and it also releases the oils in the nuts helping the butter come together better. Rich and oh so nutty, we are spreading this pistachio butter on everything! 
For the nut butter
1 1/2 cups raw shelled pistachios
2 tbsp mild honey
3 tbsp (more if needed*) neutral oil such as grapeseed
1/2 tsp salt
Preheat oven to 350F/177C. Place the pistachios on a sheet pan in a single layer and toast for 8-10 minutes until lightly golden. Transfer the pistachios to a food processor and begin to process. The pistachio butter texture will go from grainy to clumpy to smooth, be patient and keep processing. Scrape down the sides of the food processor every 2 minutes and keep processing until smooth, about 8-10 minutes. Add the honey, oil and salt and continue to process until very smooth, another 5-7 minutes

*If the texture is too dry, add more oil, 1/2 tbsp at a time until a smooth and glossy consistency is reached

Transfer the pistachio butter to a sterilized jar and store in the fridge

To serve
For the Love of Bread organic country sourdough batard, sliced & toasted

pistachio butter
Slather on generously and enjoy!