Turkey Sandwich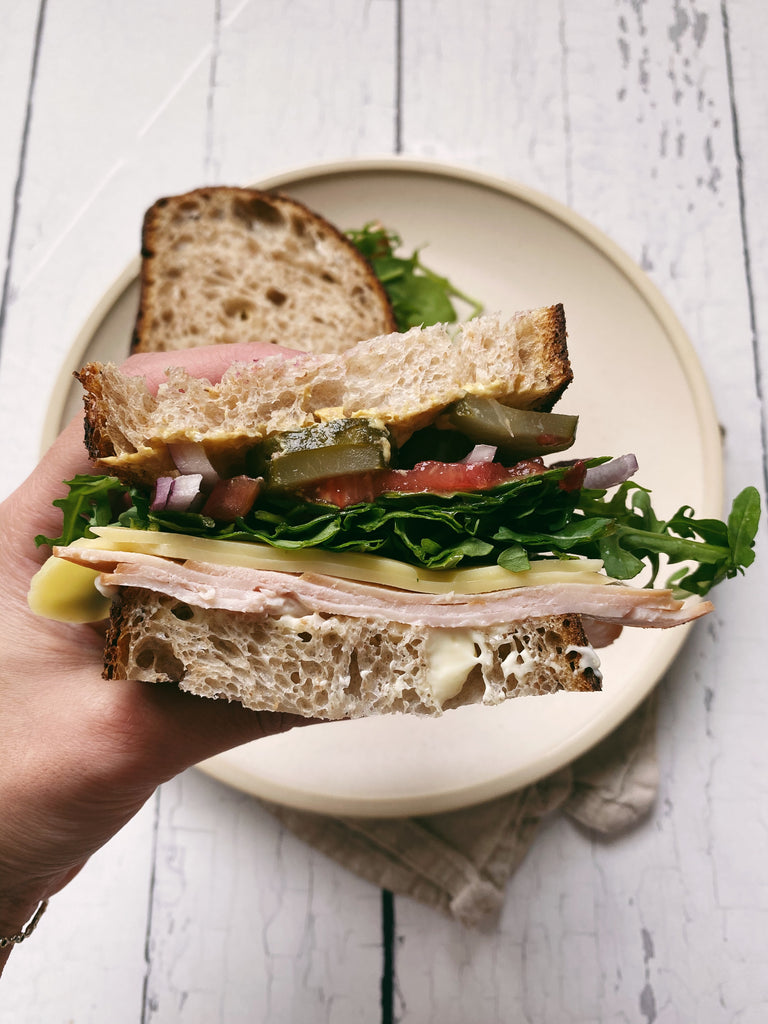 Who loves a tasty sandwich?
Mastering the basics of a deli turkey sandwich is the gateway to mastering all sandwiches in our humble opinion; you have to start with the classics. The deli turkey requires just a few simple ingredients: sliced turkey breast, sliced cheese (we love swiss), mayo, mustard (dijon is optional, but we prefer it), lettuce (we used arugula), tomato, red onion, and pickles all layered between two slices of bread (sourdough in our case, of course). This isn't rocket science people — layer it up and you've got yourself a pretty great turkey & swiss, even better eaten with potato chips!

To make a good turkey sandwich you will need:
2 slices For the Love of Bread organic country sourdough batard (our sandwich bread will work great here too)

mayonaise
dijon mustard
4-5 slices of turkey breast
2 slices swiss cheese
a handful of arugula
sliced tomato
sliced red onion
pickle slices
Spread the mayonnaise evenly on one side of one slice of the sourdough and spread the mustard evenly on one side of the remaining slice of sourdough. 
Add the turkey slices, swiss cheese, arugula, tomato, red onion and pickles on top. 
Close into a sandwich. Enjoy!