Tzatziki Dip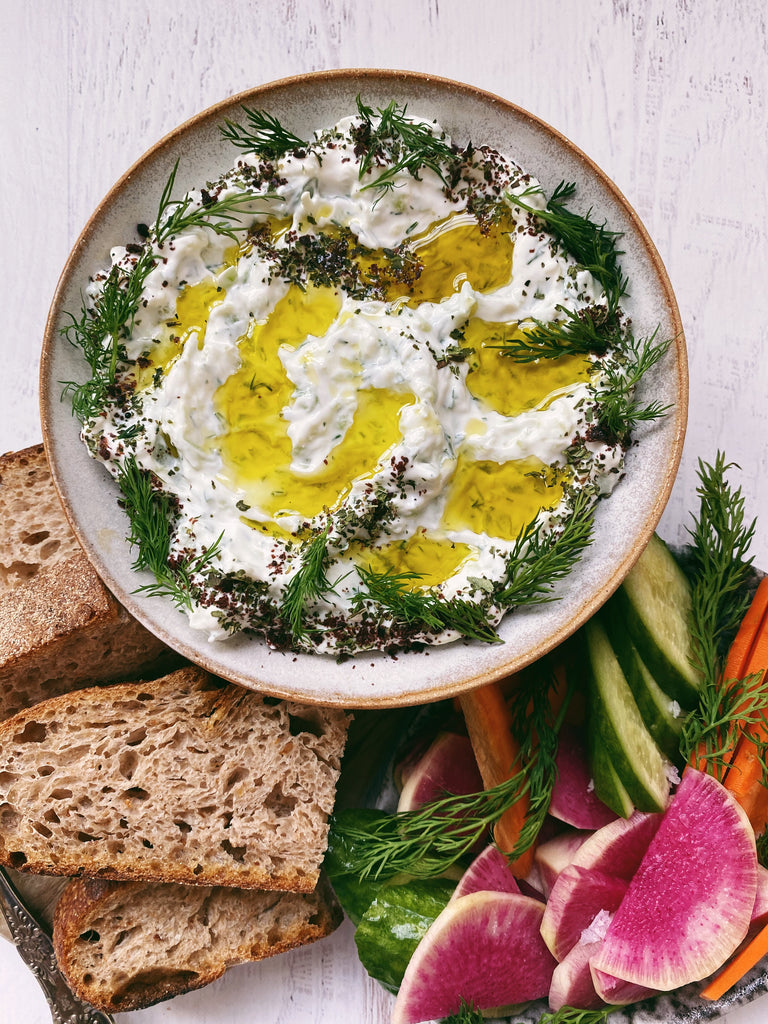 Tzatziki 

is one of our favorite classic dips. It's versatile and a delicious addition to your table tomorrow for

 Eid

. We love it with grilled meats, sandwiches, vegetables, and of course as a dip for our sourdough bread. We top ours with dried mint and sumac, which is a sway from the traditional recipe, but we love the zippy punch and holiday flair it adds to the dip! Tzatziki gets better with time so we recommend to make it in the morning and enjoy it in the evening!

For the dip
4-5 Persian cucumbers, peeled and grated
1 cup full-fat Greek yogurt
1/2 cup full-fat sour cream
1 clove garlic, grated
1 tbsp white grape vinegar
handful fresh dill, chopped
1/2 tsp salt
Expel the water from the grated cucumber by placing it in a tea towel and squeezing out all the water until dry. Mix the grated cucumber, Greek yogurt, sour cream, grated garlic, vinegar, dill, and salt in a bowl till combined. Taste for seasoning. Store in the fridge for up to 3 days.

To serve
dried mint, sumac, fresh dill and extra virgin olive oil for finishing

For the Love of Bread country sourdough batard, torn into chunks
crunchy vegetables such as carrots, radishes, cucumber, celery
Garnish the tzatziki with a sprinkle of dried mint, sumac, fresh dill and a generous drizzle of olive oil. Serve alongside sourdough bread chunks and vegetables. Enjoy!