Zucchini Sandwich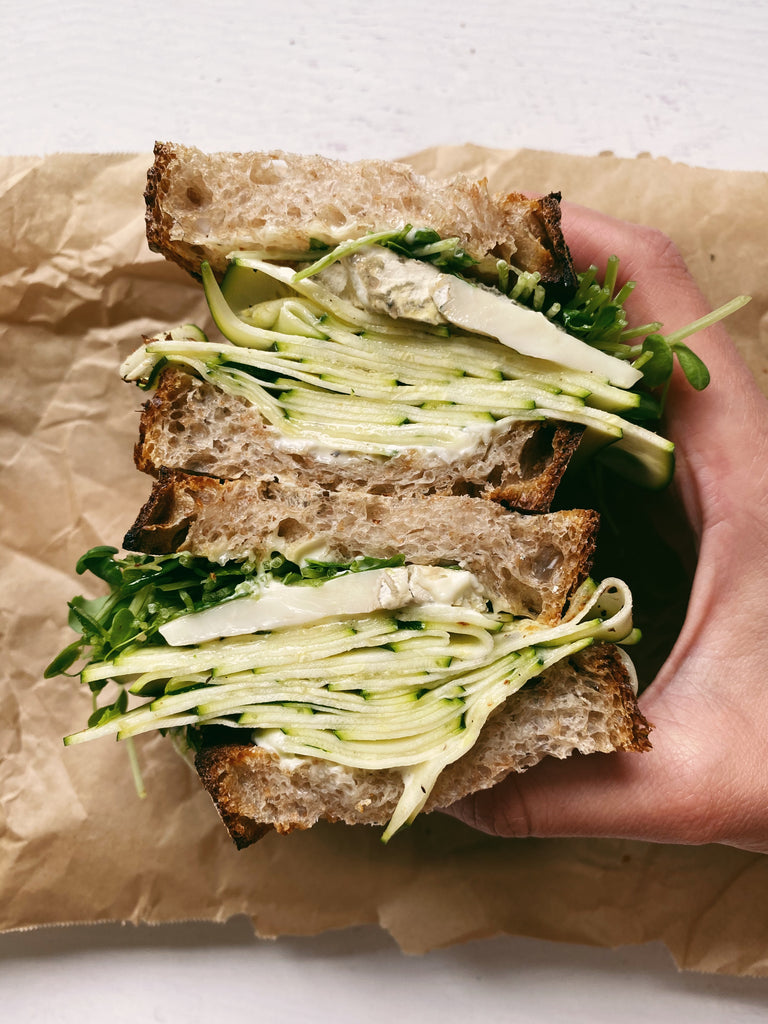 Hot July days have us craving something cooling, crunchy, and bright. For this vegetarian sandwich we shave down zucchini super thin and let it marinate in lemon juice and olive oil until slightly tender. Our sourdough gets slathered with tangy garlic lemon mayo and we add on creamy goat cheese and lots of fresh greens making this the ideal summer sandwich! 

For the zucchini:
1/2 of a large zucchini or 1 small zucchini, ends trimmed

extra virgin olive oil
lemon
salt & pepper
Use a mandolin or a peeler/sharp knife to shave the zucchini into wide ribbons. Place the zucchini ribbons on plate and drizzle with olive oil, lemon juice, salt and pepper. Let sit for 15 minutes.

For the garlic lemon mayo:
1/4 cup mayonnaise
1 small garlic clove, grated
juice from 1/2 lemon
pinch of salt
Mix the mayonnaise with the grated garlic, lemon juice, and salt till combined

For the sandwich:
2 slices For the Love of Bread organic country sourdough batard, toasted

garlic lemon mayo
marinated zucchini ribbons
sliced soft goat cheese
handful greens (i.e sprouts, microgreens, arugula or lettuce)
extra virgin olive oil
salt & pepper
Spread the garlic lemon mayo over one side of both slides of sourdough. Layer the zucchini ribbons on the bread and add the goat cheese on top. Place a handful of greens on top. Drizzle with olive oil and season with salt & pepper. Place the other slice of sourdough on top and close into a sandwich. Enjoy!